Here's The Email Exchange With The White House That Made Bob Woodward 'Uncomfortable'
Woodward vs. White House? Here's The Email Exchange...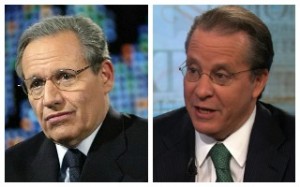 We've heard much ado about the you'll-regret-this email Bob Woodward said he received from a top White House official following his critical response to the administration's handling of the impending sequester. Woodward said he was uncomfortable, while an aide said there was no threat. Today, POLITICO published that email exchange in full.
RELATED: Woodward On Tension Between Him And White House: I Got An E-Mail Saying 'You're Going To Regret This'
"It makes me very uncomfortable to have the White House telling reporters, you're going to regret doing something you believe in, even though we don't look at it that way, you do look at it that way," Woodward said on CNN on Wednesday.
He was referring to the email he received from White House aide Gene Sperling. In it, Sperling said, in part:
I apologize for raising my voice in our conversation today. My bad. […]

But I do truly believe you should rethink your comment about saying saying that Potus asking for revenues is moving the goal post. I know you may not believe this, but as a friend, I think you will regret staking out that claim. The idea that the sequester was to force both sides to go back to try at a big or grand barain with a mix of entitlements and revenues (even if there were serious disagreements on composition) was part of the DNA of the thing from the start. It was an accepted part of the understanding — from the start.
Woodward also said he received an angry 30-minute phone call. Later in the email, Sperling said he wanted to "truly apologize" for raising his voice. In a cordial reply, Woodward said, "You do not ever have to apologize to me," adding that he welcomes "a little heat" and his "personal advice."
Read the full emails over at POLITICO.
Have a tip we should know? tips@mediaite.com