Herman-ally Ill: Herman Cain's Approval Rating With Republicans Drops 9 Points In One Week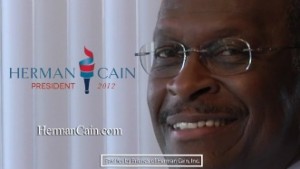 One week after the story of sexual harassment allegations against Herman Cain blew up, a new Reuters/Ipsos poll shows the first signs of possible orbital decay in the embattled presidential hopeful's ride at the top of the GOP polls. According to the poll, Cain's approval rating among registered Republicans has slid nine points, from 66% last week, to 57% this week. As Jay Carney might say, this can't possibly be the kind of nine Cain wants.
An ABC News/Washington Post poll taken last week seemed to bode well for Cain, showing him in a statistical tie with Mitt Romney, but more importantly, with a substantial majority of voters (73%) saying that the sexual harassment allegations either made no difference, or made them more likely to vote for Cain.
The Reuters poll, meanwhile, was an online survey, so, as Reuters says "typical margins of error do not apply," so that nine point dip might not be as terrifying an omen as it seems.
However, even if the scandal hasn't sunk Cain (and we have yet to see what effect a flesh-and-blood accuser will have on the story's trajectory), polling expert Nate Silver notes that it seems to have hit the brakes on his campaign's bullet train momentum:
It looks to me as if Mr. Cain had been on a positive trajectory before, perhaps having moved up to about 28 percent of the Republican vote. The two new surveys have him at 23 percent and 26 percent. That's not bad at all — a scandal-marred Herman Cain still has as much of the vote as Mitt Romney. But any upward momentum Mr. Cain had has been halted, and he may have lost a couple of points.
Ordinarily, such a plateauing wouldn't be cause for all that much worry, but the scandal is entering a new phase that could get really ugly. On the other hand, in the Spock-with-a-beard universe of conservative base politics, Cain might capitalize on their powerful susceptibility to media victimhood, and benefit from stepped-up attacks.
Silver also observes that "key Republican blogs, which defended Mr. Cain early on, were turning against him by the end of the week."
Ironically, I think that's probably a function of his so-called China gaffe, which seems to have been the straw that broke the back of many a Cain supporter. Even though he was actually innocent of the gaffe, it highlighted Cain's already established weakness on foreign policy, and hardly anyone on the right bothered to push back against it.
Had that "gaffe" not happened, I think a lot of conservatives would have been more inclined to defend Cain on the harassment allegations. There's little to be lost for a conservative to push back against eeeevil Politico, et al, but defending a guy who has the foreign policy chops of an IHOP manager can damage your reputation.
It's too early to count Cain out, though, as the heat from this firestorm is match only by the icy regard in which conservatives, and the media, hold Cain's main rival, Mitt Romney.
Have a tip we should know? tips@mediaite.com