Hero Cat Struggles to 'Throw' First Pitch at Baseball Game… Because She's a Cat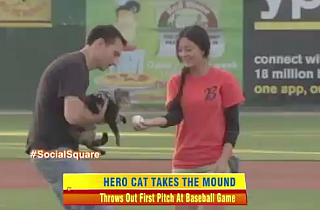 Tara, the badass ninja cat who swooped into our hearts last week when she saved a young boy from a dog attack, was rightfully celebrated around the country for her heroism and bravery. Naturally, as befitting such a distinguished American, we did what we always do in situations like this: Sent her to a minor league baseball game to throw out the ceremonial first pitch. Is that a prize or a penalty?
How can a cat throw a baseball, you might have been wondering. It can't. (No one said this was a logical idea.) A cat can't even catch a ball, unlike dogs, who are pure and good and superior to cats in all ways. But not being able to throw certainly hasn't stopped many other celebrities from trying it in the past, like Obama, for example, who throws "like a girl" and therefor can't be trusted to run the country for some reason.
Logistics be damned, Tara and her owner Roger Triantafilo turned up at the Bakersfield Blaze game last night to do the honors. How did it go? Not great! The idea was for Triantafilo to use Tara as a sort of blunt object to push against the ball, which was attached to a wire, but they couldn't get it to work after a few tries, so he threw the ball himself.
Next up for Tara? Seeing as we've already checked in with the hosts of Wheel of Fortune and the ex-host of The Man Show for their thoughts on the political issues of the day, you can expect a series of half-cocked, boneheaded hot takes from the feline any day now. Makes about as much sense as giving those two attention.
Watch below:
— —
>> Luke O'Neil is a journalist and blogger in Boston. Follow him on Twitter (@lukeoneil47).
Have a tip we should know? tips@mediaite.com