Hillary Campaign Volunteer Gets Into Stanford By Writing 'Black Lives Matter' 100 Times on Application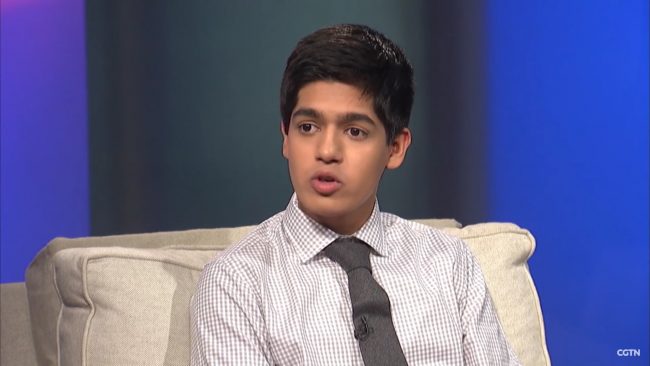 The prestigious Stanford University recently accepted a Muslim teenager from New Jersey, after answering one of the questions on the application by writing #BlackLivesMatter one hundred times.
Ziad Ahmed, who touts his activist status in his Twitter handle, bragged not only about his acceptance, but also his beyond repetitive answer in an April 1, 2017 post:
I submitted this answer in my @Stanford application, & yesterday, I was admitted…#BlackLivesMatter pic.twitter.com/R5YxM77bWL

— Ziad Ahmed (@ziadtheactivist) April 1, 2017
BBC's Tuesday write-up on Ahmed pointed out that he "worked for Hillary Clinton's presidential campaign and had also been invited to the White House under Barack Obama's administration" (he also worked as a State Department intern). He got to meet President Obama, Mrs. Clinton, and her longtime aide, Huma Abedin.
I, an American-Muslim 18-year-old, have had the chance to speak my truth at the White House three times.

Beyond thankful.#FarewellObama pic.twitter.com/Ou4XNIq6X4

— Ziad Ahmed (@ziadtheactivist) January 11, 2017
The pictures just came in from when I had the chance to meet @HillaryClinton in Mclean, VA a few weeks back! pic.twitter.com/KLLGrey8EA

— Ziad Ahmed (@ziadtheactivist) May 1, 2016
While people try to tear down #HumaAbedin for literally being Muslim, I stand proud to have met her. #IStandWithHuma pic.twitter.com/12A4ts0JvT

— Ziad Ahmed (@ziadtheactivist) August 21, 2016
The British news outlet also disclosed that "Ahmed has also been accepted to Yale and Princeton universities and he has until May to decide which one to choose."
The Muslim teenager received extensive coverage of his acceptance to Stanford on Monday and Tuesday. However, one detail that went largely unnoticed is his support for controversial Palestinian-American activist Linda Sarsour, who was one of the organizers of the anti-Trump Women's March earlier in 2017 (the conservative Independent Journal Review noticed this detail in their Tuesday post on Ahmed).
Less than two weeks before his Stanford announcement tweet, Ahmed wished Sarsour a happy birthday and gushed that she was his "role model" (the two first met in September 2016). Earlier in 2017, he also voiced support for the pro-sharia law activist:
Happy birthday to my role model, @lsarsour! As an American-Muslim youth today, she inspires/empowers me through her advocacy. Grateful. pic.twitter.com/u1YdU3tlyt

— Ziad Ahmed (@ziadtheactivist) March 19, 2017
.@lsarsour has been a consistent advocate of justice for ALL. She works tirelessly to uplift & empower others. #IMarchWithLinda pic.twitter.com/Oy3DuQWjyD

— Ziad Ahmed (@ziadtheactivist) January 23, 2017
#IMarchWithLinda bc as an American-Muslim teen in Trump's America, she's a reminder that I can, I will, & I must. Thankful for her, always. pic.twitter.com/WTILM5Puy8

— Ziad Ahmed (@ziadtheactivist) January 23, 2017
[image via screengrab]
Have a tip we should know? tips@mediaite.com