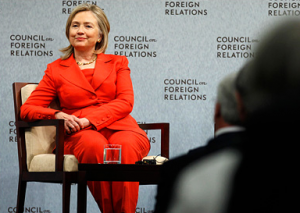 Both President Obama and Secretary of State Hillary Clinton gave big speeches today. One is getting accolades, the other…less so. It's almost like 2008 all over again!
Obama's speech was ostensibly supposed to be a big policy address about the economy but actually ended up sounding like a too-lengthy campaign address. Hillary's was to the Council on Foreign Relations and "sought to showcase the successes of the Obama administration's foreign policy" end result being that it actually addressed the economy in terms that will likely get a lot of people's attention. In fact, it's hard to tell where we will see her conclusion that the weak economy "sends a message of weakness internationally" pop up with more frequency…it sound like the sort of phrase that could be wielded in both GOP or Dem midterm stumping.
At the Daily Beast Tunku Varadarajan says "behold the Hillary Doctrine. And heap abundant gratitude—and rose petals if you have them on hand—on the firm, unfussy, deeply reassuring woman who has just offered it up to the world." He also suggested she sounded Bush-like: "In a muscular departure from the way in which this administration—for fear of seeming Bush-like—has been shrinking from the unembarrassed propagation of American values, she uttered these plainspoken, unadorned words: "Democracy needs defending."
If you think that is not rose petaly enough he also thinks "it was, by far, the best speech of this administration." Those are some heady assertions. And will likely fuel more speculation about Hillary's future in (and out?) of the administration. If you are curious as to what all the fuss is about you can watch her complete speech below.
Have a tip we should know? tips@mediaite.com