Hillary Snapchatted an Incredibly Groanworthy 4-Part Star Wars Message Today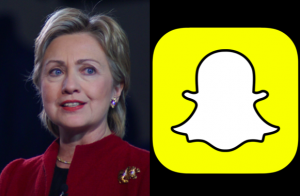 Throughout the week here at Mediaite, we have taken notice of the various ways that 2016 candidates have been using the highly anticipated Star Wars release to their campaign's advantage. After Ted Cruz Tweeted out a bizarre fan-made video comparing President Barack Obama to the Star Wars Dark Side, Democratic frontrunner Hillary Clinton used Snapchat to send out a four-part message timed with the release of the film.
Let's remember back for a moment that she once joked that using Snapchat could ensure that her "messages disappear all by themselves." Unfortunately for her we have screengrabs of this awful movie tie-in attempt, complete with goofy graphics and one very questionable emoji.
Her first one was a fired shot out of the gate over to the GOP. Not the most original way to go with it — Cruz did it earlier in the week and Rand Paul identified his campaign as the "Rebel Alliance" earlier today. Regardless, a tiny spaceship emoji was used that I guess is the closest thing to a Millennium Falcon that Apple offers: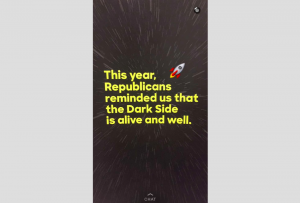 Boom, next up Clinton hit her followers with the white-girl-making-an-X-with-her-arms emoji — a classic I guess? — with the line, "These aren't the candidates you're looking for, America."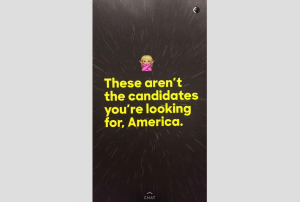 Now shit gets really weird. The third Snapchat that the Hillary Clinton campaign sent today is simple enough in text: "Luckily, the Force is strong with this one." But for SOME reason they chose to include a black person's flexed arm as the emoji of choice.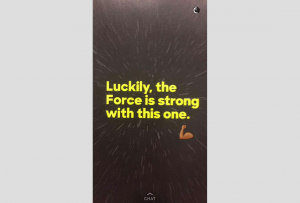 So many questions here. If you're trying to convey "strength" then OK, that dumb emoji is probably as good as it gets. But why the hell would you willingly chose one of the "racialized emojis" if you're a very-much-white Presidential candidate? Is this a stab at the ever-elusive Star Wars fanatic/African-American-with-bulging-bicep demographic? I mean to chose this specific emoji you need to pretty intentionally go way out of your way from the default offering on the iPhone to use it. Clinton chose the second-from-the-darkest skin color too nonetheless.
And finally the Wikileaks-rip-off logo on the starry night backdrop to cap off our journey through the marketing mind of the Clinton camp.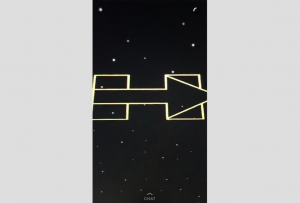 This guy took to Twitter today to include the original screengrabs, which Clinton Retweeted to her 5 millions followers, writing that Clinton "absolutely slayed it nerd style".
.@HillaryClinton absolutely slayed it nerd style with her Snapchat today! #ImWithHer#StarWarsTheForceAwakenspic.twitter.com/WZRgJ73kW4

— Ryan Richman (@TsarRhys) December 17, 2015
In the Tweet, he includes the hashtag #ImWithHer, which may in fact refer to the white-girl-making-an-X-with-her-arms.
[images via Flicker and Wikipedia Commons]
—
>> Follow J.D. Durkin on Twitter (@MediaiteJD)
This is an opinion piece. The views expressed in this article are those of just the author.