Hillary Supporter Ed Rendell: She's Handled Email Issue 'Atrociously,' Very 'Tone-Deaf'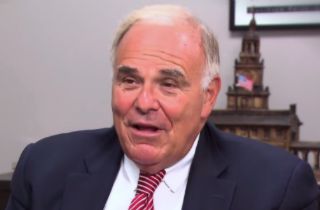 In the past, former Pennsylvania Governor and Hillary Clinton supporter Ed Rendell has publicly dismissed the issue her use of private email as Secretary of State, pointing to how Edward Snowden was able to obtain government information and lamenting how people are too focused on this and not issues that matter.
But more recently, he admitted he hasn't been happy with how Clinton and the campaign have dealt with the issue, culminating in him giving a pretty blistering quote about it this week.
Clinton this week admitted personal email use probably "wasn't the best choice," but insisted she's done everything to cooperate with the feds on the matter.
But a New York Times report yesterday details how plenty of Democrats are frustrated with how she's handling it. And that's where Rendell gave the following quote:
"They've handled the email issue poorly, maybe atrociously, certainly horribly. The campaign has been incredibly tone-deaf, not seeing this as a more serious issue. She should have turned over the email server at the start, because they should have known they'd be forced to give it up. But at this point, there's nothing they can do to kill the issue — they're left just playing defense."
Other Clinton supporters make similar statements in the report, including one Democrat who says "we have to have people who are talented, independent experts on classified secrets defending her on television, rather than who we have now."
[h/t WFB]
[image via screengrab]
— —
Follow Josh Feldman on Twitter: @feldmaniac
Have a tip we should know? tips@mediaite.com
Josh Feldman - Senior Editor