Hillary's State Dept Reportedly Authorized Weapons Deals for Countries That Donated to Foundation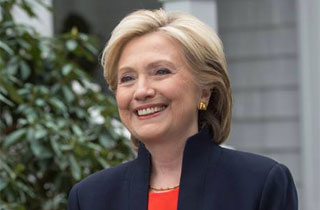 More news from the Clinton Foundation Revelation Front reveals more shady donations related to even shadier government deals: A new report suggests that Hillary Clinton's State Department approved weapons deals with countries after their governments donated money to her family's philanthropic organization.
The International Business Times reports that during Clinton's tenure, "the State Department approved $165 billion worth of commercial arms sales to 20 nations whose governments have given money to the Clinton Foundation," a figure that represents "nearly double the value of American arms sales made to the those countries" during the previous Bush Administration. In addition, the Clinton State Department approved $151 billion in "Pentagon-brokered deals" with 16 other donor countries, and reportedly resulted in "between $54 million and $141 million" of donations to the foundation (and the corresponding hundreds of thousands of dollars to the Clintons themselves).
Though they were unable to find the exact dates these governments made to the Foundation, IBT noted that seven of those governments' donations coincided with Clinton-approved weapons deals. For instance, here's how they dealt with Algeria:
In its 2010 Human Rights Report, Clinton's State Department inveighed against Algeria's government for imposing "restrictions on freedom of assembly and association" tolerating "arbitrary killing," "widespread corruption," and a "lack of judicial independence." The report said the Algerian government "used security grounds to constrain freedom of expression and movement."

That year, the Algerian government donated $500,000 to the Clinton Foundation and its lobbyists met with the State Department officials who oversee enforcement of human rights policies. Clinton's State Department the next year approved a one-year 70 percent increase in military export authorizations to the country. The increase included authorizations of almost 50,000 items classified as "toxicological agents, including chemical agents, biological agents and associated equipment" after the State Department did not authorize the export of any of such items to Algeria in the prior year.

During Clinton's tenure, the State Department authorized at least $2.4 billion of direct military hardware and services sales to Algeria — nearly triple such authorizations over the last full fiscal years during the Bush administration. The Clinton Foundation did not disclose Algeria's donation until this year — a violation of the ethics agreement it entered into with the Obama administration.
Another deal with Kuwait was closed around the time that the government paid Bill Clinton $175,000 to speak at a gala thrown by the Kuwait America Foundation, while Qatar's donation coincided with a "14-fold increase" in the State Department authorizing military sales to the kingdom.
So far, Hillary's team hasn't commented.
Read the entire report here.
[Image via Hillary Clinton/Facebook]
—
>> Follow Tina Nguyen (@Tina_Nguyen) on Twitter
Have a tip we should know? tips@mediaite.com