Hockey Player: Nelson Mandela Was 'One of the Most Known Athletes in the World'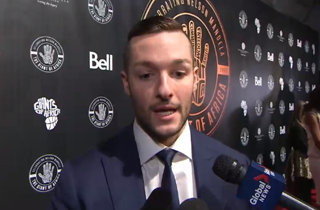 Last Friday, the Toronto Raptors threw a fundraiser in honor of the anti-apartheid leader Nelson Mandela, who died a year ago. All of the great Canadian athletes attended, and their presence added glamour to the event, even if at least one of them had no idea who Nelson Mandela was.
"He's one of the most known athletes in the world," Toronto Maple Leafs goalie Jonathan Bernier told a red carpet reporter, praising Mandela's legacy in the world of ice hockey.
"A lot of impact in any kind of sport that he did, and even playing hockey, everyone knows him, right? From being the type of person that he was off the ice and on the ice. It's unfortunate that he passed a year ago, but, he changed a lot while he was with us, and he's a tremendous guy."
Then Bernier, a Québécois whose first language is French, was asked an even tougher question: how did Nelson Mandela inspire him?
I just think the way he met that is, you know, to me growing up playing sports with my parents was something really special cause I could share, try to be a leader, try to share things, and things like that where, you know when you're a group sport you need to do that right?
Naturally, the video went viral, with people questioning how Bernier could have walked this earth for 26 years without knowing who Nelson Mandela was, and Bernier eventually apologized.
Watch below via The Globe and Mail:

[h/t Deadspin]
[Image via screenshot]
—
>> Follow Tina Nguyen (@Tina_Nguyen) on Twitter
Have a tip we should know? tips@mediaite.com