Sen. Claire McCaskill: Rolling Stone's 'Bad Journalism' a 'Setback' for Rape Survivors
McCaskill:
Rolling Stone'
s 'Bad Journalism' a 'Setback'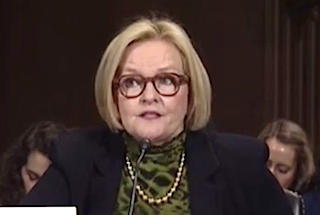 During a Senate Judiciary subcommittee hearing Tuesday morning, Democratic Senators Claire McCaskill and Kirsten Gillibrand each weighed in on what they see as the potentially harmful effects of the Rolling Stone article on campus rape at the University of Virginia that has come under suspicion for inaccuracies after it was published last month.
Calling the magazine's reporting "bad journalism," Sen. McCaskill said, "I am saddened and angry because it is a setback for survivors in this country." She added that rape is "the most underreported crime in America and will remain so and our problem is not victims coming forward and embellishing. Our problem is victims are too frightened to come forward."
"So this bad piece of journalism, I think, has set us back and I want to make sure that we overcome it and don't allow it to slow us in our determination to make sure that victims have the support they need at the moment they need it," McCaskill concluded.
In her comments, Sen. Gillibrand dismissed the Rolling Stone report as a distraction from the real issue. "Clearly, we don't know the facts of what did or didn't happen in this case," she said. "But these facts have not changed: UVA has admitted that they have allowed students who have confessed to sexually assaulting another student to remain on campus. That is and remains shocking."
Over the weekend, Rolling Stone managing editor Will Dana published an updated apology, clarifying that "these mistakes are on Rolling Stone, not on Jackie," the source who came to the paper with her account of a gang rape on campus. The student's roommate has since come forward to corroborate Jackie's story and insist that it is not a "hoax."
Watch video below, via Washington Examiner:
[Photo via screengrab]
— —
>> Follow Matt Wilstein (@TheMattWilstein) on Twitter
Have a tip we should know? tips@mediaite.com