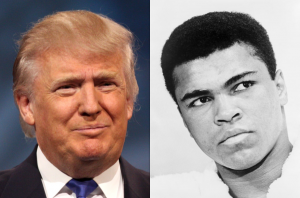 Donald Trump – the man who has made demonizing Muslims a big part of his presidential campaign – now wants to attend the funeral for America's best known Muslim, Muhammad Ali. Everything Trump does is "yuuuuge" – even his hypocrisy.
Next up will Trump attend Mexican Independence Day celebrations? Or perhaps he will show up at a rally for the National Organization of Women?
Keep in mind Trump didn't just stir up hate in general about Muslims throughout this campaign — he actually denied that Muhammad Ali was a person worthy of praise. That happened in December after President Obama declared in a speech that, "Muslim Americans are our friends and our neighbors, our co-workers, our sports heroes."
Trump would have none of that. So he took to Twitter mocking the very notion there were any Muslim sports heroes: "Obama said in his speech that Muslims are our sports heroes. What sport is he talking about, and who?"
If Trump doesn't view Ali as a "sports hero" than what does he view him as? If Trump sees Ali as nothing more than a typical Muslim, why would Trump want to attend the funeral of a guy who follows a religion that Trump has said "hates us." Not only that, thousands of Muslims will be at Ali's Muslim funeral Thursday and at the interfaith services on Friday, which are both open to all faiths as Ali directed. Why would Trump want to stand with so many people who follow a religion that he believes hates America?
And, of course, Trump infamously called for "a total and complete shutdown of Muslims entering the United States." That means if Trump were President today, some of Ali's relatives from other countries — who if Muslim — would not be permitted to attend Ali's funeral.
Or maybe — just maybe — Trump wants to attend the funeral to engage in surveillance of Muslims? Ahhh, maybe that's where Trump is showing us his commander in chief chops. As a reminder, in December Trump called for surveillance of Muslim Americans and noted he was even open to a database to register Muslims. Perhaps Trump wants to go to Ali's funeral not as a fan but to see which Muslims should be in his database?
However, if Trump is truly there to pay respects to Ali, that would likely be very upsetting to some of his GOP supporters. After all, 70% of GOP of primary voters support Trump's Muslim ban. And even more shocking is that in certain states, only 49% of GOP voters even believe Islam should be legal in America. If you supported Trump because you think he hates Muslims just like you do, wouldn't you be upset to see him palling around with thousands of them?
And keep in mind Ali was proudly Muslim. In December, Ali denounced Trump's proposed Muslim ban in his statement titled, "Presidential Candidates Proposing to Ban Muslim Immigration to the United States." Plus in Ali's 2005 book, "The Soul of a Butterfly," he wrote that he had wanted to be the Muslim Billy Graham, serving as an ambassador for Muslims to his fellow Americans. But sadly as Ali acknowledged, his Parkinson's disease made that impossible.
At this point it's not clear if Trump will attend Ali's funeral. But Ali family friend Saliha Shakir has already stated Trump would be welcomed noting, "None of us care for [Trump's] rhetoric, but this is what Ali would have wanted. He would not have turned him away."
That's the difference between Ali as a proud Muslim and Trump and his supporters who are on board with the demonization of Muslims, Latinos etc. Ali was inclusive of all while Trump and many of his fans want to divide Americans by faith, religion, etc.
If Trump does attend the funeral, I doubt it will change his views on Muslims — if he actually has any because as we have seen, Trump says whatever his audience wants to hear. But hopefully the media will call out Trump's laughable hypocrisy. And I'd love to see Trump get booed by everyone at the event of all faiths. Ali wanted to bring people of all faiths together and what better way to do that then to hear them boo Trump as one.
—
Dean Obeidallah is a former lawyer turned comedian and writer. He is the host of SiriusXM radio's "The Dean Obeidallah Show" and co-directed the comedy documentary, The Muslims Are Coming!
—
[images via Wikipedia Commons]
This is an opinion piece. The views expressed in this article are those of just the author.