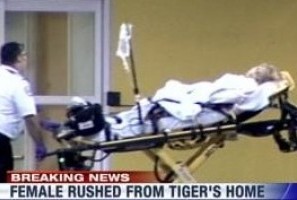 The Tiger Woods gossip of the past two weeks seems to have had real-world consequences: a blonde woman was rushed to the hospital from Woods' house and put on "advanced life support" last night. Details are hazy, but Tiger Woods' mother-in-law, Barbro Holmberg, appears to have been staying at his house, and according to some accounts, the woman looked like Woods' wife Elin Nordegren.
(update: the AP confirms that the woman is indeed Barbro Holmberg.)
According to the New York Post, the woman was released from the hospital this morning:
Emergency crews responded to a rescue call at Tiger Woods' Florida mansion and transported a woman to the hospital on "advanced life support," local news outlets are reporting this morning.

The identity of the woman or her condition is not known, but local NBC affiliate WESH reported the call was made at 2:36 a.m. today Health Central Hospital in Ocoee. The patient at first refused treatment but was then taken to the hospital on "advanced life support."

Witnesses told Orlando-based WFTV the younger blonde woman who was seen arriving at the hospital soon after the ambulance early Tuesday looked similar to Tiger's wife Elin.
Every salacious detail that's gotten out over the course of the past two weeks — the 10 alleged mistresses, the prenup negotiations, the "Ambien sex" — has existed in a circus-like atmosphere of gossip that has wrapped up even respectable mainstream outlets. With the news of this woman's hospitalization (and, fortunately, her release), the unreality of the Tiger Woods saga has taken a strange and serious turn.
Have a tip we should know? tips@mediaite.com