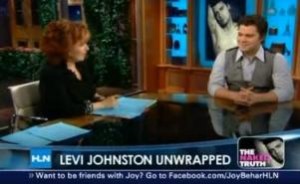 Joy Behar continued her string of news-making guests since her HLN show's launch (Bill Maher, Ann Coulter, Joe the Plumber, Orly Taitz to name a few), adding Levi Johnston to the list last night.
While he stayed fairly quiet on new Sarah Palin info, he did talk about being a "gay icon" – and revealed more upcoming Playgirl pics.
"You realize that you're a gay icon now," said Behar midway through the interview. "I do," said Johnston. Here was the rest of the exchange:
Johnston: I haven't ever seen a gay guy in Wasilla, I don't think.
Behar: You've never seen a gay guy? Look around they're all over here. (laughter)
J: Once I started doing all these tours and everything. You know I just…they're people too. It doesn't matter to me. More fans, that's great.
Then it was time for the big reveal – more, new Playgirl pictures! As Behar chuckled through the pictures, she joked, "They're going wild at the Ramrod right now, I'll tell you right now." You can watch the video below – we don't need to do a screengrab, do we?
Oh fine.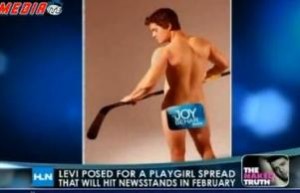 While Levi says he never saw a "gay guy in Wasilla," he did meet The Atlantic's Andrew Sullivan – a noted Palin non-fan. Sullivan wrote about the encounter last night:
Johnston, his aide, Tank Jones, and I had a fascinating chat in the green room. It was all off the record but I hope at some point to be able to interview Johnston on the record as a way to get some first-hand fact-checks on the Palin book and public statements.
Wow – will we see Sullivan teaming up with Johnston to take down Palin?
The gay icon discussion lasted just a few minutes of the lengthy, multi-segment interview. Here was one other big, take-with-a-grain-of-sale quote from Johnston. "The communication between Sarah, Todd and the kids was horrible," he said. "You'd never been in the kitchen with three of them. If Todd's in the kitchen Sarah's in her room. They're never together, they're never talking."
The full interview:

—–
» Follow Steve Krakauer on Twitter
Have a tip we should know? tips@mediaite.com