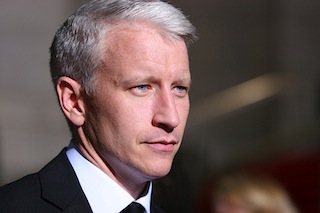 CNN anchor Anderson Cooper's acknowledgement that he was gay was met with a collective "meh" on Monday. It was just the type of reaction Cooper wanted. "I want to report the news. I don't want to be the news," he told comedian Kathy Griffin. His announcement wasn't loud, shocking or game changing. In many ways, Cooper's coming out typifies the subtle and steady progress being made in the battle against bigotry aimed at gay and lesbian Americans.

Cooper's announcement wasn't huge news for a number of reasons. Rumors about his sexuality have been around for years, he isn't the first openly gay prime time news or CNN anchor, and his public coming out came in the form of an email to the Daily Beast's Andrew Sullivan, not a splashy magazine cover or heart-wrenching segment on his daytime talk show.
The fact Cooper's announcement wasn't news is good news for gay and lesbian Americans. The fight against discrimination of homosexuals is unfolding differently than than it did for many other minorities; for one thing, it's less of a fight.
Gay rights differs from women's rights or civil rights because unlike gender or race, people don't necessarily outwardly manifest their sexuality, making it harder to discriminate against them than it is women or people of various ethnic groups. This means people like Cooper are able to work in their industry without their identity tied to what makes them a minority.
RELATED: Rush Limbaugh: Anderson Cooper Coming Out May Be CNN's Best Ratings Move
Gay rights benefits from having advocates everywhere. Today, millions of gay and lesbian Americans challenge stereotypes and change perceptions among their parents, siblings, classmates, colleagues, teammates and neighbors. It's a battle fought less through protests and sit-ins than it is through talks at the kitchen table, text messages and status updates. That said, Cooper's coming out is important because he emphasized that his sexuality didn't change who he is as a journalist which, by extension, reinforces the notion gays and lesbians express when they come out to loved ones: I'm still the same person.
"It is not part of my job to push an agenda, but rather to be relentlessly honest in everything I see, say and do," he wrote, saying he "worked hard to accurately and fairly portray gay and lesbian people" and well as "those who for whatever reason disapprove of them" in the media.
The "duh" reaction many had to Cooper's coming out echoes the "duh" many gay rights supporters have after each new poll is released that shows increased acceptance of homosexuality. Statistics and demographics appear to make the end of bigotry against gays and lesbians inevitable. Gallup polls show that those who accept gay and lesbian relations have outnumbered those who oppose them for four years now. Other gay rights, such as equal rights in terms of job opportunities, show even stronger support — all suggesting those who oppose gay marriage on religious grounds, for instance, don't favor discrimination in other areas.
Cooper's announcement wasn't a milestone — his CNN colleague Don Lemon and MSNBC's Rachel Maddow, Thomas Roberts, and Steve Kornacki came out before he did — but it is important and it signals the progress made in ending discrimination of gays and lesbians.
Follow Hunter Schwarz (@hunterschwarz) on Twitter
Have a tip we should know? tips@mediaite.com