Suspected Female Terrorist May Have 'Escaped' Kosher Market by Not Being in France at All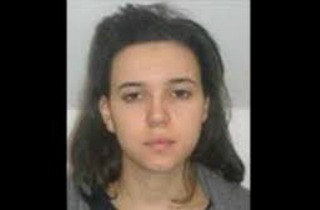 UPDATED: See at bottom.
Now that the two remaining Charlie Hebdo massacre suspects are dead, along with the gunman behind the Kosher market standoff, France's most-wanted person is a 26-year-old woman named Hayat Boumediene.
Boumediene is the (non-state-sanctioned) "wife" of hostage-taker Amedy Coulibaly, who died Friday evening during the police raid. She is a one-time cashier who reportedly married him in a religious ceremony four years after he was convicted of armed robbery. Because their marriage was not a civil ceremony, the government of France does not recognize their matrimony.
According to law enforcement officials, Boumediene was with her husband when the pair shot and killed a policewoman and proceeded to take hostages (killing four of them) at a Kosher bakery in Paris. She somehow managed to escape either before or during the final police assault, officials claim.
As part of a 2010 investigation into Coulibaly's possible ties to Islamic extremism, Boumediene told police examiners that she had become radicalized by her lover, and that she viewed America as the ultimate evil. "When I saw the massacre of the innocents in Palestine, in Iraq, in Chetchna, in Afghanistan or anywhere the Americans sent their bombers, all that," she reportedly said, "well, who are the terrorists?"
And as the Daily Mail reports: "The couple lived in nearby Bagneux, where they were known as devoutly religious couple, despite Coulibay's regular run-ins with the law." They had reportedly gone on a trip to Malaysia together, and then recently disappeared from the neighborhood only to re-emerge when their names were all over the news.
So how did Boumediene, who is described as "armed and dangerous," apparently escape the same fate as her husband? Police union spokesman Pascal Disant suggested she may have slipped out during the "confusion" of the raid. Ten hostages were among those who escaped the premises during or after the firefight.
The manhunt is currently ongoing and will likely soon provide further answers as to how she may have eluded capture. We'll update as more details become available.
UPDATE — Sat., Jan. 10, 2015, 1:00 p.m. ET: CNN reports that its sources in French intel indicate that Boumediene escaped police capture because she wasn't even in France this week. She may have been in Syria for months, according to the report.
This brings up a whole new set of questions: What led French police officials to make the claim that she was present at one of the attacks with Coulibay? Was their assertion that she was likely present based alone on the fact that she had open ties to the now-deceased gunman? We'll update as we learn more.
Watch the CNN report below:
— —
Have a tip we should know? tips@mediaite.com