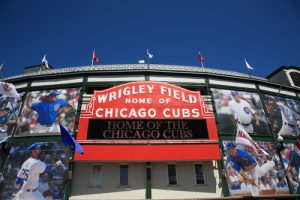 For the first time since Oct. 10, 1945, Wrigley Field will play host to a World Series game tonight, as the Chicago Cubs return home for Game 3 of the Fall Classic against the Cleveland Indians.
The Series is even at 1-1 following a strong Game 2 performance from Cubs starter Jake Arrieta, who held Cleveland to one run over 5.2 innings.
Kyle Schwarber's remarkable comeback has given the Cubs a big lift, and Schwarber was crucial to the Game 2 victory – driving in two of Chicago's five runs on the right. One disadvantage the Cubs have in Wrigley, though, is that they won't be able to play Schwarber – as there's no DH in the National League Park, and Schwarber hasn't yet been cleared to play the field. So the Chicago slugger will be limited to pinch hitting appearances.
The importance of Game 3 can't be overstated. Cleveland is bringing their ace, Corey Kluber, back on short rest to pitch Game 4. So a Game 3 win would give them a 2-1 advantage with their ace on the hill, and a chance to take command in the series. Conversely, Chicago, with a win, would keep alive their hopes of clinching a historic World Series victory in front of the Wrigley faithful. They would need three straight wins in order to do that.
Kyle Hendricks takes the ball for Chicago, after starting the NLCS-clinching Game 6 against the Dodgers six days ago. Cleveland counters with Josh Tomlin, who's 2-0 in the postseason.
First pitch is at 8:08 p.m. ET. The game will air on FOX. Joe Buck and John Smoltz have the call. The action can be streamed free with a cable subscription on pc, cell phone, or tablet via Fox Sports Go — which can be downloaded via the iTunes store, the Google Play store, and the Windows store.
[image via Ffooter – ShutterStock]
Have a tip we should know? tips@mediaite.com