How to Watch Indians-Blue Jays American League Championship Series Baseball Game 5 Live Stream Online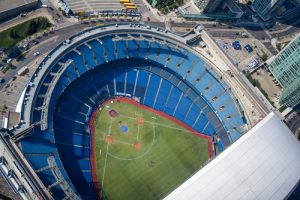 Yesterday, we suggested that Cleveland's 3-0 lead over Toronto in the American League Championship Series might be a bit more precarious than your garden variety 3-0 advantage. Now that the Blue Jays defeated Cleveland ace Corey Kluber in Game 4, the Indians' 3-1 edge seems downright shaky.
That's because the pitching match-up in Game 5 is dramatically in Toronto's favor. The Blue Jays will send out their ace, Marco Estrada, on Wednesday afternoon. Estrada took the loss in Game 1, but pitched very well in defeat – allowing just two runs over eight innings.
Due to injuries, Cleveland's options are severely limited. So they'll turn 24-year-old lefty Ryan Merritt, who has made just one career major league start. Not one career postseason start, one career start period. He pitched to a 3.70 ERA in Triple A this season, which does not bode well for his chances against a solid Toronto lineup.
Cleveland undoubtedly will again be leaning on their bullpen, led by Andrew Miller and Cody Allen who've been absolutely superb. The Indians remain just one win away from their first American League pennant since 1997, and five wins away from their first World Series title since 1948.
First pitch today is 4:08 p.m. ET. Ernie Johnson, Ron Darling, and Cal Ripken Jr. have the call. The game will air live on TBS. The network will stream the game free for cable subscribers on the Watch TBS app, which can be downloaded via the iTunes store, the Google Play store, and the Windows store.
[image via Maurezio De Mattei – ShutterStock]
Have a tip we should know? tips@mediaite.com