'We Care Deeply About Diversity': Zuckerberg Defends Facebook Board Member Peter Thiel's Ties to Trump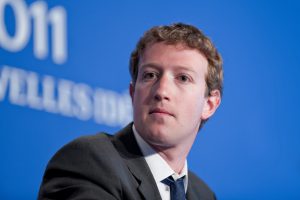 Mark Zuckerberg defended Facebook board member Peter Thiel's ties to Trump in a private internal post to employees.
Thiel, an early investor in and current board member of Facebook, has emerged as one of Trump's most prominent Silicon Valley supporters. He spoke at the Republican National Convention and recently announced that he was donating $1.25 million to Trump's campaign — a move that inspired widespread ire from the largely liberal-leaning California tech industry and moved some to sever ties with him.
A photograph of the post, apparently written by Zuckerberg to Facebook employees, appeared on BoingBoing and Hacker News on Tuesday night. Facebook confirmed the post's authenticity to Mediaite.
"There are many reasons a person might support Trump that do not involve racism, sexism, xenophobia or accepting sexual assault," Zuckerberg writes in part.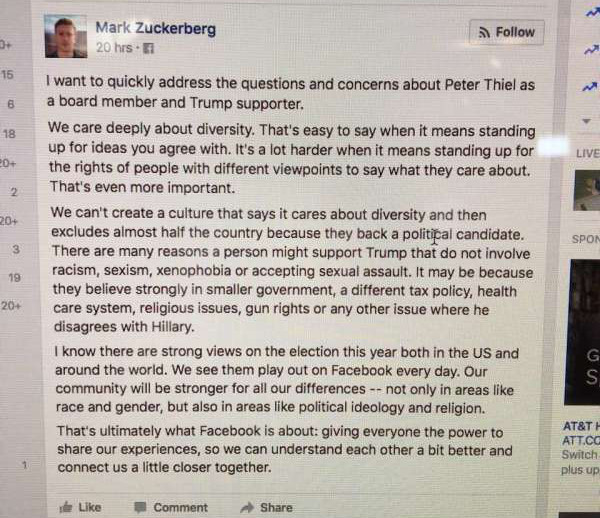 The post reads in full:
I want to quickly address the questions and concerns about Peter Thiel as a board member and Trump supporter.

We care deeply about diversity. That's easy to say when it means standing up for ideas you agree with. It's a lot harder when it means standing up for the rights of people with different viewpoints to say what they care about. That's even more important.

We can't create a culture that says it cares about diversity and then excludes almost half the country because they back a political candidate. There are many reasons a person might support Trump that do not involve racism, sexism, xenophobia or accepting sexual assault. it may be because they believe strongly in smaller government, a different tax policy, health care system, religious issues, gun rights or any other issue where he disagrees with Hillary.

I know there are strong views on the election this year both in the US and around the world. We see them play out on Facebook every day. Our community will be stronger for all our differences — not only in areas like race and gender, but also in areas like political ideology and religion.

That's ultimately what Facebook is about: giving everyone the power to share our experiences, so we can understand each other a bit better and connect us a little closer together.
Facebook's continued association with Thiel previously came under scrutiny when it was revealed that the tech mogul had been secretly bankrolling lawsuits against Gawker. Critics noted the site's professed embrace of the marketplace of ideas seemed at odds with Thiel's assault on the free press.
In a volatile political season, Zuckerberg has sometimes struggled to stay neutral. He was chided by conservatives after he made public remarks that appeared to be veiled criticisms of Republicans and, specifically, Trump. "I hear fearful voices calling for building walls and distancing people they label as others, for blocking free expression, for slowing immigration, reducing trade, and in some case even cutting access to the Internet," Zuckerberg said.
Facebook subsequently fielded accusations that its news curation system was blacklisting conservative viewpoints. Zuckerberg said in a public post that the company did not support the "suppression of political perspectives."
—
[image: Frederic Legrand – COMEO / Shutterstock.com]
Sam Reisman (@thericeman) is a staff editor at Mediaite.
Have a tip we should know? tips@mediaite.com