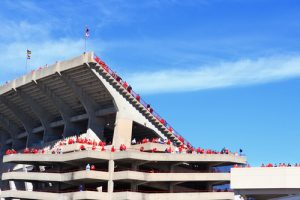 To longtime followers of college football, it seems almost unfathomable that an undefeated Nebraska team in late October could ever possibly fly-under-the-radar. But indeed, that is where we are in 2016. The No. 7 ranked Cornhuskers are a very quiet 7-0, and seldom mentioned in the same breaths as conference mates Michigan and Ohio State in the college football playoff conversation.
That's because Nebraska has played a relatively weak schedule to date, and hasn't looked all that impressive, at times. Their four conference games have been against Northwestern, Illinois, Indiana and Purdue – not exactly the cream of the crop in the Big 10.
But things change dramatically in the next two weeks, with primetime road games against two top-11 foes in two of the toughest places to play in all of college football. Next week, the Huskers head to the horseshoe for a date with the Buckeyes. But tonight, it's off to Camp Randall for a showdown with No. 11 Wisconsin.
The Badgers have gone 5-2 against a very tough schedule thus far, dropping narrow decisions against Michigan and Ohio State. A win this Saturday and a Nebraska loss to Ohio State next Saturday would put Wisconsin in control of its own destiny in the Big 10 West.
Kickoff for the game is 7:00 p.m. ET. Joe Tessitore and Todd Blackledge will call the action. The game will air live on ESPN. It will also be streamed online, via WatchESPN. The Watch ESPN app can be downloaded from the iTunes, the Google Play store, and the Windows store.
[image via Suzanne Tucker – Shutterstock.com]
Have a tip we should know? tips@mediaite.com