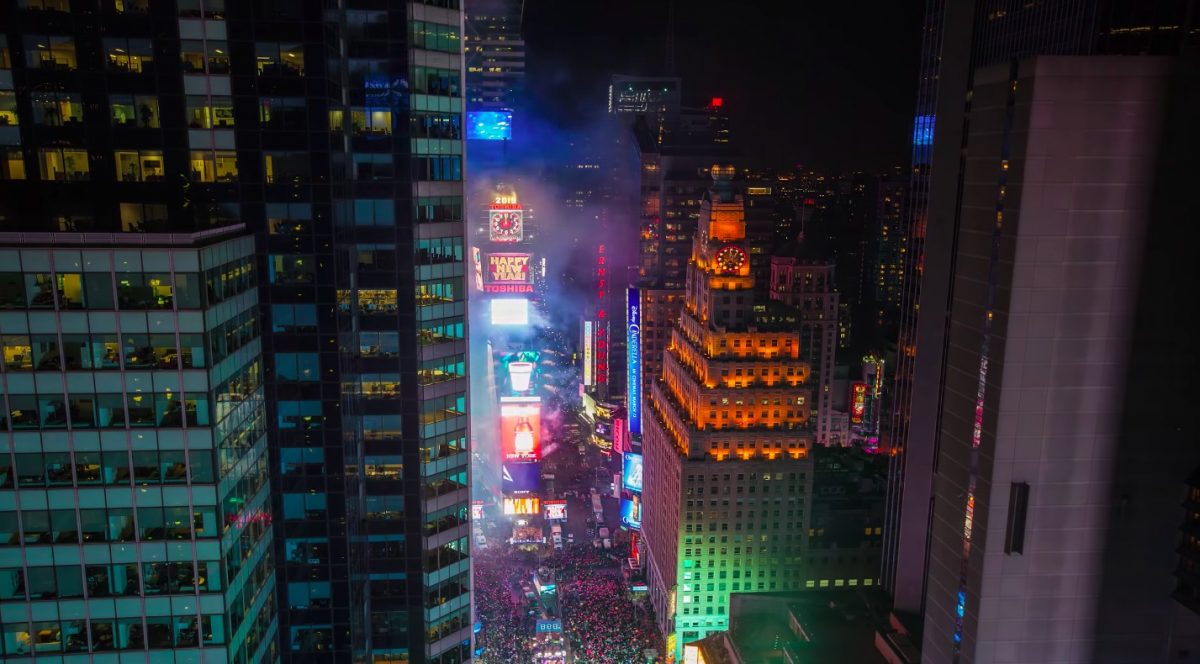 As 2018 comes to a close, most of the major networks and CNN will host various New Year's Eve specials tonight, which can also be streamed online.
News media will be front and center during the New York City's annual Times Square ball drop, as one of the event's organizers, Tim Tompkins, announced the end of the year celebration is a fitting place "to celebrate free press and free speech as we reflect on where we've been during the past year and what it is we value most as a society."
Journalists representing the industry at the event include New York Times deputy managing editor Rebecca Blumenstein, CNN New Day anchor Alisyn Camerota, NBC Nightly News anchor Lester Holt, and Washington Post global opinions editor Karen Attiah, who edited work by the paper's late columnist Jamal Khashoggi.
As for the coverage this year, check out a list list top networks' schedule for the night and how to watch their New Year's Eve specials below:
1. Fox's New Year's Eve With Steve Harvey: Live From Times Square. 8-10 p.m. EST and PST (tape delayed).
Comedian and host Steve Harvey will bring in the new year alongside TV personality Maria Menounos. Expect cameos from Saturday Night Live star Kenan Thompson, actor Ken Jeong, and the hosting crew of NFL Fox Sunday. Robin Thicke, Sting, Jason Aldean, and Florence + the Machine will all be performing as well. Viewers can tune-in at 8 p.m. on both the east and west coast, as the broadcast will be tape delayed for PST, while those who wish to watch along online can use the network's app.
2. CNN's New Years Eve Live With Anderson Cooper and Andy Cohen. 8 p.m. to 1:05 a.m. EST.
The cable news network's 2018 countdown includes some of their top talent. As is tradition, Anderson Cooper will report on all the festivities happening in Times Square — alongside reality TV fixture Andy Cohen — while Don Lemon and Brooke Baldwin will follow the celebratory debaucheries going on in New Orleans. CNN's coverage can be watched online for free, so viewers without cable or an account with the network can still follow along.
3. ABC's New Year's Rockin' Eve With Ryan Seacrest. 8 p.m. to 2 a.m. EST and 7 p.m. to 1 a.m. CST.
Hollywood media magnate Ryan Seacrest will ring in another new year in New York City with Jenny McCarthy, where the two will follow along with this year's ball-drop countdown. The broadcast includes the most star-studded line up, as their New York slate includes Bastille Christina Aguilera, and Dan + Shay, while Camila Cabello, Shawn Mendes, Charlie Puth, Halsey, Christina Aguilera, Ciara, and Ella Mai will perform during ABC's Los Angeles countdown. Viewers online can also watch ABC's coverage via their app.
4. NBC's New Year's Eve. 10-11 p.m. EST/PST and 11:30 p.m. to 12:30 a.m. EST/PST (tape delayed).
The peacock network has assembled an interesting and unique cast to host their countdown this year, as TV personality Carson Daly, Saturday Night Live's Leslie Jones, and model/Twitter celebrity Chrissy Teigen will bring NBC back into the New Year's coverage game after nixing the event last year. Singers Jennifer Lopez, Bebe Rexha, and Tiegen's husband John Legend will all give performances in New York. Country music star Keith Urban will also perform on the network, with a special concert from Nashville's Bicentennial State Park.
5. Fox News Channel's All-American New Year Co-hosted by Kennedy and Pete Hegseth. 8 a.m. to 1 a.m. EST.
Fox News will host a New Year's Eve special with Fox Business host Kennedy and Fox & Friends weekend host Pete Hegseth. The two will be broadcasting live from New York City, along with an array of the network's other talent reporting in from all over the country.
[image via screengrab]
Have a tip we should know? tips@mediaite.com