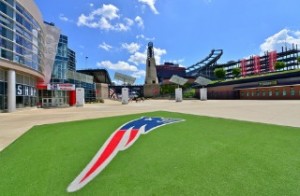 Tom Brady and the New England Patriots take the field for the first time this postseason on Saturday night, when they host the AFC South-winning Houston Texans at Gillette Stadium.
As has so often been the case over the past two decades, the Pats sat out the first weekend of the playoffs. At 14-2, they earned the AFC's No. 1 seed with ease, despite the four-game suspension served by Brady at the beginning of the year for his part in the Deflategate scandal. Even by their traditionally lofty standards, the Patriots had a dominant season. Seldom did their opponents even come within hailing distance. They scored the third most points of anyone in the league. And they allowed the fewest. They're going to be very tough to beat.
The Houston Texans will give it their best shot, coming in off a confidence-building 27-14 win over Oakland in the wild card round. But the task is a little tougher on Saturday night. Last week, the Texans got to face overmatched Raiders rookie signal caller Connor Cook. On Saturday, they get one of the greatest quarterbacks in NFL history.
In the regular season between these two clubs, the Patriots blasted the Texans 27-0. And that was with Jimmy Garoppolo at quarterback while Brady was still under suspension. The Texans will need to raise their game dramatically to have a shot on Saturday night.
Kickoff is at 8:00 p.m. ET. The game will air on CBS, with Jim Nantz and Phil Simms on the call. CBS will stream the game via its All Access platform (which costs $5.99 per month, but does offer a one-week free trial to new customers). Certain cable providers also offer the ability to stream CBS online.
Have a tip we should know? tips@mediaite.com