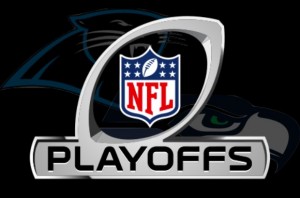 On Sunday afternoon, the 15-1 Carolina Panthers will play host in their first postseason game against the visiting Seattle Seahawks. The Seahawks, who finished 2nd in the NFC West with a 10-6 record, are hoping to reach their third consecutive Super Bowl, but battling through the nearly perfect Panthers will be no small task.
This season, Carolina quarterback Cam Newton has finally come of age, tossing 35 TDs and 3837 regular season passing yards (636 on the ground, too). Their offensive attack is balanced by RB Jonathan Stewart, and Tight End Greg Olsen amassed over 1000 yards for the second time in his career (the first time was only last season with Newton). Meanwhile, the Russell Wilson-led Seahawks are hoping to build off of their escape in frigid Minnesota last weekend, where they won a 10-9 battle after a fortuitous missed field goal in the closing seconds.
Oh, and if you're a proud member of the Seahawks 12th Man, just try and not focus on the fact that the Panthers are undefeated playing at the Bank of America Stadium in Charlotte this season.
Kickoff for the game is Sunday at 1:05 p.m. ET. The game will be broadcast on FOX and Sirius XM Radio. Fans can also log-on to NFL Game Pass to stream the game on their desktops on-demand. NFL Mobile applications are also another way to stream the game between Carolina and Seattle, which can be downloaded from the Apple App Store, Google Play, and the Windows Store.
NFL Sunday Ticket games can also be watched online at nflsundayticket.tv.
Watch the above game preview from ESPN.
Have a tip we should know? tips@mediaite.com