Howard Stern On Rick Perry's Hunting Lodge Controversy: 'This Guy Ought To Leave The Country Now'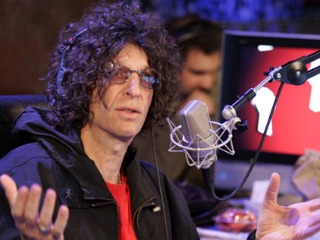 Radio host Howard Stern is, shockingly, not the biggest fan of Texas Governor Rick Perry, and the GOP hopeful's ties to a rather unfortunately-named hunting camp isn't likely to change Stern's mind about the politician.
As Stern sees it, Perry's visits to the so-called "Niggerhead" hunting camp in western Texas is a reason not only for him to get out of the campaign, but also to leave the country altogether.
RELATED: Joe Scarborough: 'N*ggerhead' Story 'Disqualifying' To Rick Perry (While Mika Defends)
A warning that the language below is downright saucy:
I mean, this guy ought to leave the country right now, forget about being president. He should resign today, from whatever campaign he's on. Listen, you're a politician. You see a big sign, a rock where you take your people every year for a retreat called Niggerhead… You go, "Wait a second. Now, let's see. We're in America, there's 5 million retreats I can go to. I'm going to go to Niggerhead! Fuck it!" I mean, what kind of moron is that?
He also made the point that even if a person is racist and either endorses the camp's name or is racially insensitive and thinks nothing of it, the fact that one is running for political office should at least make a person pause long enough to think about what patronizing such a place might mean for one's political future. "This is a dopey guy, you know," he added. "He's clearly insane."
Have a listen:
h/t BuzzFeed
Have a tip we should know? tips@mediaite.com