Huckabee Hits Back at Critics of 'Libido' Comment: 'Nothing Scandalous About It'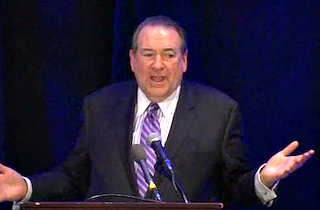 During his Thursday afternoon speech before the Republican National Committee, former Gov. Mike Huckabee (R-AR) caused quite the stir when he suggested the Democrats view women as slaves to their "libido," exclusively dependent upon the government for subsidized birth control.
Critics charged that Huckabee was using inappropriate and insensitive language when describing women's sexuality and the politics surrounding it. In an interview with Fox's Howard Kurtz, Huckabee hit back, asserting that there's "nothing scandalous" about discussing libido.
The former governor suggested the controversy might not have happened had NBC's Kasie Hunt and CNN's Dana Bash not "erroneously tweeted" portions of his remarks "to mean the polar opposite."
Both reporters clarified their tweets with the full context of Huckabee's remarks, but he believes the damage was done.
"They so totally blew it," he told Kurtz, "and now it's a scandal?"
When asked for comment on his use of the word "libido," Huckabee explained to the Fox anchor:
"Women (like men) are sexual beings, but they are much more than that. To reduce either gender or any person to one aspect of their being is an unfair characterization. My point was to point out that Dems have put a laser like focus on government funded birth control and given it more attention than cancer drugs."

As for the word, "never thought about every word parsed apart from the overall message, so not sure why that one word attracts such attention in the context of the statement. It adds color and as a communicator yourself, you probably try to write so as to create vivid pictures. Libido is a normal part of being human. Nothing scandalous about it. But without it, in either women or men, would there be a demand for birth control?"
— —
>> Follow Andrew Kirell (@AndrewKirell) on Twitter
Have a tip we should know? tips@mediaite.com