Hugh Hewitt Given Verbal Warning by MSNBC Over Pruitt Meeting: 'A Violation of Our Standards'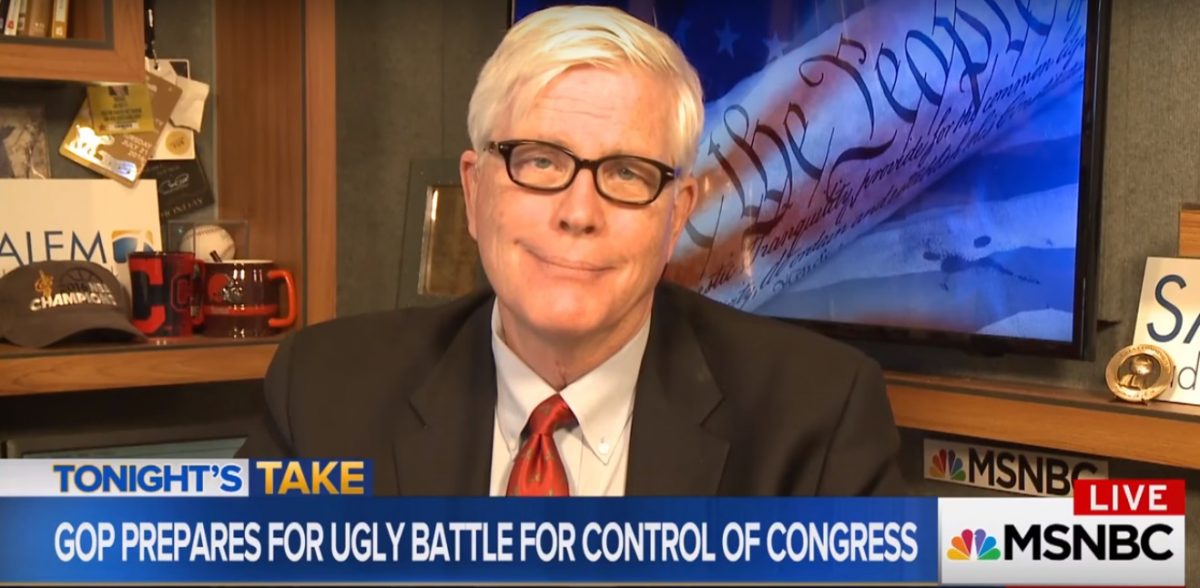 MSNBC conservative commentator Hugh Hewitt received a verbal warning from his employer after it was reported Monday that he met with embattled EPA chief Scott Pruitt about federal efforts to clean up a polluted site in California.
"Hugh Hewitt disclosed several times to MSNBC viewers that he has a friendship with EPA Administrator Scott Pruitt and also that Hewitt's son works for the agency," an MSNBC spokesperson said Wednesday, according to Politico's Michael Calderone.
"As a result of those relationships," the spokesperson added, "Hewitt stopped discussing EPA-related matters on MSNBC. However, after the network learned Tuesday that Hewitt set up an EPA meeting in the fall, he was given a verbal warning as such activity is a violation of our standards."
The verbal warning came just two days after Politico published an article under the headline "Pruitt fast-tracked California cleanup after Hugh Hewitt brokered meeting." The article detailed how Pruitt gave "immediate and intense" prioritization to the cleanup of a polluted site in Orange County, California, after meeting with Hewitt, who is a resident of Orange County.
MSNBC wasn't the only media outlet that rebuffed Hewitt after Politico published the report.
Washington Post editorial page editor Fred Hiatt told the left-leaning media watchdog organization Media Matters that Hewitt, who is one of the newspaper's columnists, will no longer be allowed to write about the EPA chief.
"I was disturbed to learn this morning that Hugh Hewitt had intervened with EPA administrator Scott Pruitt on behalf of Hewitt's law firm as he was writing about Pruitt in a column for The Washington Post. Hewitt, who has not written about Pruitt since September, has agreed not to write about him going forward and has assured us that similar incidents won't occur in the future," Hiatt told Media Matters.
[image via screengrab]
>>>Follow Jon Street (@JonStreet) on Twitter
Have a tip we should know? tips@mediaite.com