Human Rights Official Accused of Harassing Black Man, Chanting 'We're Racist!'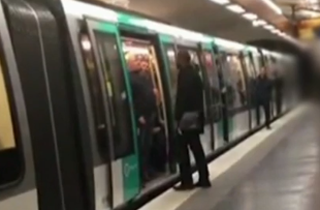 Last week, a group of British soccer fans were videotaped in a Paris metro station repeatedly shoving a black man off the train, while chanting "We're racist, we're racist, and that's the way we like it!" And it turns out that one of the men accused of dumb racism is a director at a human rights foundation.
UK Metropolitan Police identified Richard Barklie, a director of the World Human Rights Forum, as one of a group of Chelsea fans preventing Souleymane S., a 33-year-old black man, from entering the train. The group, which was headed to a match against Paris Saint Germain last Tuesday, was
Barlike admitted in a statement that he was part of the group that shoved the man out of the train, but pulled out the I worked in Africa so I'm totally not racist card, according to CNN:
However, the Chelsea season-ticket holder, who was formerly a Royal Ulster Constabulary and Police Service of Northern Ireland officer, denies he participated in the chanting and "condemns any behaviour supporting that."

The statement read: "Pending formal engagement with police our client is anxious to put on record his total abhorrence for racism and any activity associated with it.

"As someone who has spent years working with disadvantaged communities in Africa and India he can point to a C.V. in human rights work which undermines any suggestion he is racist.

"Today a senior official in the World Human Rights Forum confirmed their support for him
Chelsea FC has already suspended five fans from attending games in connection to the incident, and ominously warned that season ticketholders would be dealt with accordingly. Their rivals in West Ham, on the other hand, touted their respect towards people of all races via Vine.
The police are still looking for more men involved with the incident.
Watch video of the incident below, via The Guardian:
[CNN]
[Image via screenshot]
—
>> Follow Tina Nguyen (@Tina_Nguyen) on Twitter
Have a tip we should know? tips@mediaite.com