'Humorous'? Local Tennessee Official Draws Backlash With 'How To Wink At A Muslim' Post
Posting a photo of a man pointing a gun with the caption "how to wink at a Muslim" is likely to draw some controversy. Barry West, commissioner of Coffee County in Tennessee, found that out the hard way. After the image he posted on Facebook triggered a wave of criticism, West responded by arguing he meant it to be humorous.
Here's a screen grab of the post, via local station WSMV: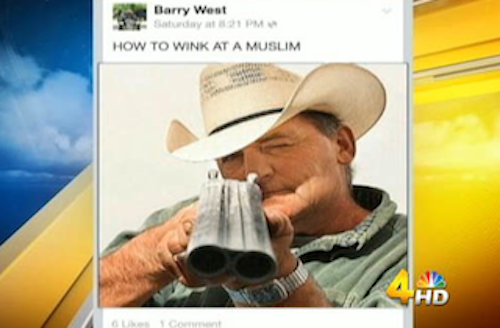 The American Center for Outreach, an Muslim advocacy organization, found the post and immediately criticized West, demanding an apology. West deleted the post, the Tennessean reported, but did not apologize — instead noting that he did not create the image, asking, "Why am I being singled out?"
"I thought it was humorous," West told The Tullahoma News, adding he was "making a point."
West was asked by The News if he is prejudiced toward Muslims.

"I'm prejudiced against anyone who's trying to tear down this country, Muslims, Mexicans, anybody," he said. "If you come into this country illegally or harm us or take away benefits, I'm against it."
The Islamic Center of Murfreesboro released the following statement in response:
"This does not only incite hatred but also violence against law-abiding citizens of our great country. Mr. West obviously lacks in wisdom and judgment and, therefore, cannot be trusted as commissioner. I wonder what would Mr. West's response would be if the same photo was posted by someone with a caption that says: 'How to Wink at Mr. West, a Coffee County Commissioner?'"
Coffee County Mayor David Pennington, too, responded to the incident and those groups asking that West be fired, which, WSMV noted, is unlikely to happen.
"I seen the post," Pennington said. "My answer to that is, you know, what a commissioner does on his off time — as long as he's not in a full commission meeting — you know, I have no control over what a commissioner does."
Watch WSMV's report on the story below:

Have a tip we should know? tips@mediaite.com