'I Love Your New Hotel!': Foreign Diplomats Flocking to Trump's Washington Hotel Post-Election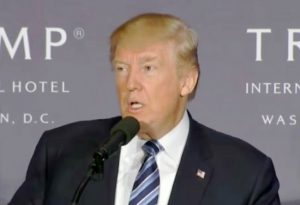 In the week-plus since Donald Trump surprisingly won the presidential election over Hillary Clinton, there has been quite a bit of discussion regarding conflict of interest surrounding Trump's business interests while he serves as POTUS.
One way it looks like Trump may be able to directly profit from residing in the White House is his new hotel in Washington, D.C. The Trump International Hotel occupied the Old Post Office, and the federal government owns the lease. However, besides that obvious conflict — Trump paying rent to a federal agency he oversees — it appears there is another issue that is already possibly arising.
According to a report by the Washington Post, foreign diplomats are now flocking to the hotel in a way to ingratiate themselves with the President-elect. Recently, about 100 foreign officials gathered at the hotel to listen to a sales pitch. One diplomat from the Middle East said that "all the delegations will go there."
Meanwhile, in interviews with over a dozen others, the Post stated that they learned that the thought process was that they feel that staying at the hotel is a "friendly gesture" to Trump.
"Why wouldn't I stay at his hotel blocks from the White House, so I can tell the new president, 'I love your new hotel!' Isn't it rude to come to his city and say, 'I am staying at your competitor?' " said one Asian diplomat.
At the same time, they also displayed concerns that spending money there could be seen as currying favor with the incoming president. At the same time, those working at the hotel feel they are getting this influx of business due to how close they are to the White House and that other hotels in the general vicinity are also seeing an uptick.
With Trump stating that he is just going to allow his children to run his businesses while he occupies the White House, while at the same time allowing them to sit in on meetings with foreign leaders and hold spots on his transition team, there have been calls for the President-elect to place all of his assets into a blind trust.
[image via screengrab]
–
Follow Justin Baragona on Twitter: @justinbaragona
Have a tip we should know? tips@mediaite.com