'I Think Mr. Trump is Uninformed': George Takei Answers CNN Anchor Asking if He Thinks Trump's Evil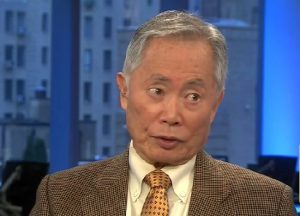 Throughout the presidential campaign, and especially since the election, Star Trek icon George Takei has been an outspoken critic of President-elect Donald Trump. Much of that criticism has revolved around Trump's proposed Muslim ban, with Takei seeing parallels with his own childhood experience of being in Japanese internment camps.
Takei appeared on CNN this morning to discuss his continued concerns with Trump's potential policies and his Cabinet choices so far. Speaking to anchor Carol Costello, Takei it was worrisome that the incoming POTUS nominated Jeff Sessions for Attorney General due to his history of racism, which led to him being denied a judgeship.
Costello responded by saying "a lot of people said that was many many years ago" and that perhaps people should give Trump a chance with his picks. The veteran actor came back by bringing up Trump's choice for the EPA and his history of fighting environmental causes.
Later on in the conversation, Costello brought up a recent tweet by Takei where he claimed Trump was trolled by TIME with its recent Person of the Year cover.
Devil horns, monster shadow, unretouched bald spot, delapidated chair, literally resting on laurels…Trump trolled by Time. h/t N. Freedman pic.twitter.com/4tRAHvJ3ul

— George Takei (@GeorgeTakei) December 8, 2016
Costello asked Takei, "Do you believe that Mr. Trump is evil?"
"I think Mr. Trump is uninformed," Takei replied. He then began discussing his and his family's experiences being interned in camps during World War II which pivoted into a conversation about possible Muslim registries and preventing Muslims from entering the country.
Watch the clip above, via CNN.
[image via screengrab]
–
Follow Justin Baragona on Twitter: @justinbaragona
Have a tip we should know? tips@mediaite.com