I Went On a 'Clinton Apology Tour': Hillary Discusses WikiLeaks In Goldman Sachs Transcript Leak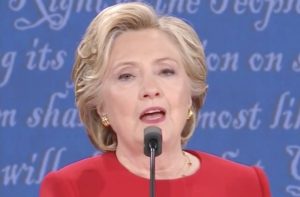 On Saturday, WikiLeaks released another round of emails that were hacked from Hillary Clinton ally John Podesta. In this newest dump, we were purportedly provided with three whole transcripts from three paid speeches Democratic presidential nominee Hillary Clinton gave to Goldman Sachs in 2013, after leaving her position as Secretary of State.
In a 2013 speech that included CEO Lloyd Blankfein, Clinton discussed being SoS during the Snowden docs release and how she had to smooth things over with other world leaders, calling it the "Clinton Apology Tour."
SECRETARY CLINTON: Okay. I was Secretary of State when WikiLeaks happened. You remember that whole debacle. So out come hundreds of thousands of documents. And I have to go on an apology tour. And I had a jacket made like a rock star tour. The Clinton Apology Tour. I had to go and apologize to anybody who was in any way characterized in any of the cables in any way that might be considered less than flattering. And it was painful. Leaders who shall remain nameless, who were characterized as vain, egotistical, power hungry —
MR. BLANKFEIN: Proved it.
SECRETARY CLINTON: — corrupt. And we knew they were. This was not fiction. And I had to go and say, you know, our ambassadors, they get carried away, they want to all be literary people. They go off on tangents. What can I say. I had grown men cry. I mean, literally. I am a friend of America, and you say these things about me.
Clinton also discussed Russia and Vladimir Putin, saying the United States would "like to see Putin be less defensive toward a relationship with the United States so that we can work together on some issues." She also noted that, at that time, Russia had "rejected out of hand" working together on topics such as missile defense.
The ex-First Lady ripped the political press and punditry, saying the media "has just been captured by trivia" and that she doesn't want to "give them more time to trivialize the importance of the issues."
The Goldman Sachs speech transcripts became an issue during the Democratic primary when Clinton's opponent, Bernie Sanders, consistently brought them up in debates and on the campaign trail.
It is a given that these transcripts will be a central part of next Wednesday's debate, with Republican candidate Donald Trump likely to pounce on them over the coming days. It should also be noted that these have not been authenticated.
[image via screengrab]
–
Follow Justin Baragona on Twitter: @justinbaragona
Have a tip we should know? tips@mediaite.com