If Billy Bush Told NBC Staff About Trump Tape Months Ago, Who Dropped the Ball?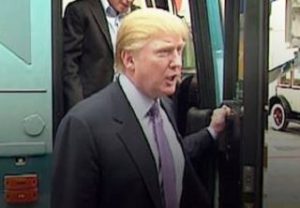 Something is just not quite adding up about how that lewd and disgusting Trump tape came to light, and NBC's role in all of this. Over the past few days, I've been trying to understand, how it is possible that NBC got beat on their own big 2o16 election scoop. NBC sources told CNN's Brian Stelter that a producer discovered the tape just last week. NBC lawyers were reportedly "vetting"the tape when it was somehow leaked to The Washington Post.  But, here's the strange part. According to Page Six, Billy Bush "brazenly bragged" to NBC staff about the disturbing 'Pussy Grab' tape while covering the Olympics in Rio. The (now former) Today show host apparently told his NBC friends at a party in August that he knew about a tape "of Trump being a real dog."  That was months ago. The timeline is not adding up. So what the heck happened? Did somebody at NBC drop the ball? Or maybe, they knew about it, and were sitting on the story until closer to the election for maximum impact? There are many potential scenarios that could end up playing out. What's for sure, however, is that we don't know the whole story.
According to Brian Stelter's account of what happened, one of Access Hollywood's producers remembered Trump's 2005 taping, and all of a sudden on his or her own accord decided to look for the archived tape last Monday. By Friday morning, executive producer Rob Silverstein had decided to broadcast it, but apparently they had already been scooped. So that's kind of weird. The tape was discovered mid-week, but the executive producers decided to go with it on Friday? Seems like a pretty big story to wait on whether it was three days or two months. Perhaps, NBC was hesitant about going with the tape because they feared it would embarrass NBC and Billy Bush. After all, Bush can be heard on tape discussing the sexuality of one his co-workers, Nancy O'Dell. That really wouldn't look so good for the network, or their newest host, who is part of Today, which has a female dominated audience.
According to Page 6, "Bush never told NBC News" brass about the tape when he joined Today. Okay,so the Today show executive producers didn't know about it.. but what about his bosses at Access Hollywood or other 'NBC' staffers that he told during that party. We are also learning that Bush may sue NBC over what happened, a source close to Bush questioned whether NBC's decision not to publish the tape right away  was a "strategic decision," according to The Post.
The official line is that NBC was waiting for lawyers to approve the tape before they broke it. But, as the Washington Post pointed out, it only took The Post's lawyers a couple of hours to "vet" the tape. And, of course, NBC would have even fewer potential legal issues to contend with because the tape originated from them. They knew the source, and that the tape was authentic. Bottom line, with Bush now apparently threatening a lawsuit over the leaked tape, NBC still has lot of explaining to do. It appears they may have sat on a hot story, and literally got burned. But, why? I've emailed several people from NBC's  communications team but have not heard back.
This is an

opinion

piece. The views expressed in this

article

are those of just the author. 
This is an opinion piece. The views expressed in this article are those of just the author.