If People Really Want to Talk About the Obama Girls' State Dinner Dre$$es, Let's Talk
As anyone who pays close attention to awards season or keeps up with the Kardashians knows, the relationship between a public figure and a clothing designer is often a symbiotic one. When Giuliana Rancic is prowling the red carpet and hits a celebrity with the infamous "Who are you wearing?" she's really giving that person an opportunity to shout out their outfit's designer, which, in many cases, is also how they're paying for the pricy duds. The same rule applies when you're reading Vogue and see the small block of text on each page of the editorial fashion spread that details the pieces used on the model.
Designers will loan out their clothing in exchange for exposure. They do this for fashion shoots, awards shows, and special events. It's a quick way to get their latest work noticed and reported on. Better yet, it feels a little more natural and accessible than a fashion show. (There is a reason that every time Kate Middleton wears a dress, that dress sells out online within a few hours.)
Of course, that might not be what happened with Sasha and Malia Obama when they wore dresses valued at $20,000 to the State Dinner last week. They wore Naeem Khan pieces, with Malia sporting one from 2015's pre-fall collection and Sasha choosing a more recent dress from Khan's resort 2016 collection. Whether they purchased or borrowed the dresses — which did the job of getting Khan in the news regardless — is unknown. What is known is that people have reacted negatively to learning the retail prices of the dresses. In particular, Kristen Sze, from ABC 7 in San Francisco, riled up the base with this now-deleted tweet: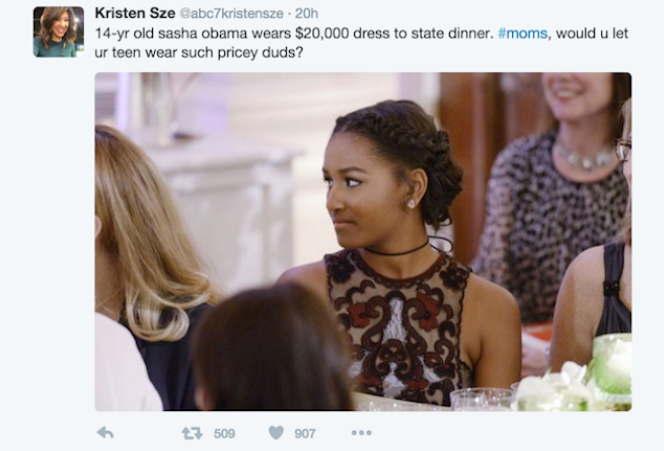 Ignoring the fact that there is a slight difference between dressing their own 14-year-olds for junior homecoming and a team of handlers dressing this particular 14-year-old for her first State Dinner, plenty of people jumped to condemn the choice and the children.
@bestrdsp And after $20,000. they still didn't look good. All the $$ can't do miracles.

— Grace Landers (@grlanders61) March 12, 2016
When Veterans r homeless, moocher Obama daughters fancying up in $20,000 EACH FOR DRESS FROM NEIMAN MARCUS COUTURE!https://t.co/vXdGMuT3WE

— Maya Varma (@swargcoming) March 14, 2016
Interestingly, Sze and others who spoke out against the clothing choices also got plenty of swift blowback.
Obama daughters dress nicely for State Dinner, the usual people complain. pic.twitter.com/uSrd1aCftP

— pacempacem (@pacempacem) March 13, 2016
@BestRDSP @grlanders61 you're clearly uninformed. Theyre gifts from the designer.

— iKnowUmadBro (@IknowUmadBro) March 13, 2016
wait. people are actually upset about the supposed cost (that was certainly not paid) of the obama daughters' dresses?

— gently, my pets (@collectdust) March 14, 2016
Sze, at least, walked her statements back.
Deleted tweets when realized they failed big time. Didn't mean 2 hurt any feelings. #mybad

— Kristen Sze (@abc7kristensze) March 13, 2016
Sorry my Obama girls dress tweet failed 2 come x as intended. Was trying 2 have mom convo on cost of clothing. #majorfail

— Kristen Sze (@abc7kristensze) March 13, 2016
Note that many people expressed a belief that the dresses were on loan. Again, this is unconfirmed. In the past, First Lady Michelle Obama has denied borrowing any of her looks. However, she has also denied using taxpayers' money to fund her fashion. Mrs. Obama buys all of her own threads. It can be assumed, then, that no matter how the dresses for the girls were obtained, it wasn't through misuse of taxpayer money.
For comparison, here is what Blake Lively wore to the State Dinner. It is also a couture piece and its price is not listed, which indicates it's probably pretty pricy. She is not the daughter of the President of the United States; she is married to a Canadian who was invited to the White House because this State Dinner was intended to honor the relationship between Canada and America.
Further, this outrage makes even less sense when you remember that the Obama Administration was criticized for going too "cheap" during the State Dinner two years ago. Moreover, it hasn't even been two years yet since Elizabeth Lauten lost her job as a congressional staffer for writing a scathing open letter to the girls about how they were dressed too casually at a turkey pardon. She implored them to "try showing a little class."  Seriously, she wrote, "Stretch yourself. Rise to the occasion. Act like being in the White House matters to you. Dress like you deserve respect, not a spot at a bar."
They did that and now they are still facing the ire of adults who have never met them but will still opine all over the Internet about how terrible they are. When it comes to the Obamas, it appears that nothing they do is right, so they might as well enjoy wearing pretty dresses while they are still in the Whit House.
At the very least, the girls' mother is no stranger to being criticized for her wardrobe choices. She surely gave her kids some advice on how to deal with this latest "scandal."
h/t The Root
[image via screengrab]
For more from Lindsey, follow her on Twitter.
This is an opinion piece. The views expressed in this article are those of just the author.