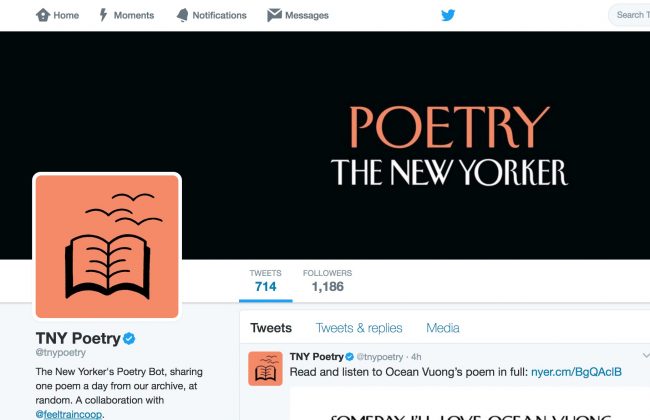 The New Yorker is turning 92! To honor themselves and their legacy of cerebral content, they've taken on the distinct honor of being the first Condé Nast company to launch a bot. The Poetry Bot is, as its name implies, a new way to receive, read, listen to, and share poetry.
Want to know how it works? Every day for the next 92 days, the bot — which is on Facebook Messenger and Twitter — will send out a random poem from the magazine's archives curated by poetry editor Paul Muldoon and poetry coordinator Elisabeth Denison. (We can think of at least one poem that is unlikely to make the cut.)
If you want to use the Twitter version, click here and follow TNY Poetry. The bot will tweet at you once with a poem's excerpt and a link to the New Yorker's site, where you can hear it read or read it yourself and learn more about it. After that, you'll just see the bot's tweets in your own timeline, though they won't be sent directly to you.
If you do want the poetry sent straight to you, opt for Facebook Messenger, which will allow you to set a specific time of day to receive the poems. Go here, select Facebook Messenger when prompted, press "Get Started," and then pick your time of day.
Here's the poem selected for today:
Read Dorothy Parker's poem, from 1925, in full: https://t.co/aohqFbYUvJ https://t.co/pUrNwXskc8

— TNY Poetry (@tnypoetry) March 6, 2017
Go check it out.
[image via screengrab]
——
Have a tip we should know? tips@mediaite.com