'I'm Not Worried': Quentin Tarantino Undaunted by Police Protests, Boycott of New Film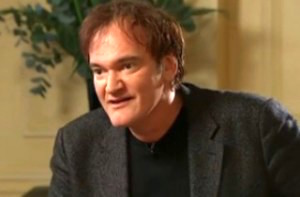 Quentin Tarantino sat alongside the cast of his new film at a Los Angeles press conference this weekend, where he said that he is unconcerned with the plans of police unions to boycott The Hateful Eight.
Approximately a month ago, Tarantino drew the ire of police departments across the country after giving a controversial speech at an anti-police brutality rally. "When I see murder I cannot stand by. And I have to call the murdered the murdered and I have to call the murderers the murderers," Tarantino said.
Since then, Tarantino has voiced that the controversy is an attempt by critics to intimidate him for addressing the excessive force issue, while law enforcement groups have promised boycotts and economic retaliation.
"People ask me, 'Are you worried?' And the answer's no," said Tarantino when asked about the boycotts. "I'm not worried, because I do not feel like the police force is this sinister black hand organization that goes out and f*cks up individual citizens in a conspiracy sort of way. Having said that, a civil servant shouldn't be issuing threats, even rhetorically, to private citizens."
Tarantino assumed some police unions would probably picket his film's screenings, to which actor Samuel Jackson thought they might also try to "buy up all the tickets to make sure the theater's empty." As the room snickered, Tarantino replied "well, that don't really hurt me! I don't have any inkling and I haven't heard anything about it, other than [Patrolmen's Benevolent Association's president] Patrick Lynch is keeping the fire on simmer."
In the end, Tarantino considered the planned pickets for the Christmas release "unfortunate" because he does "respect the good work that the police do."
[h/t People]
[image via screengrab]
— —
>> Follow Ken Meyer (@KenMeyer91) on Twitter
Have a tip we should know? tips@mediaite.com