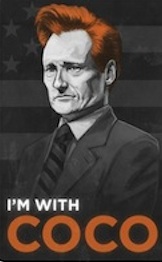 The Conan O'Brien effect is vast: Ever since the late night host began his fight with Jay Leno for NBC's coveted time-slot, the "I'm With Coco" campaign has taken over Facebook, Twitter, and every other social-networking platform you can think of. O'Brien's own Twitter account made waves went it first went up, and then again last week when he followed his first fan – Sara Killen – who then became a micro-celebrity herself. Now the man behind "I'm With Coco" image has stepped out from behind his Banksy-esque silence to talk about his new-found success as the official designer for Conan's tour posters.

Mike Mitchell was a 27-year old freelancer who quit his job at a videogame company in Los Angeles and was thinking about leaving town for good before whipping up the now-iconic image of Conan's orange hair and outline. He's raised over $25k for Haiti with sales of merchandise, and although he wouldn't tell PopEater how much money he's personally made off the image, he admitted the money isn't the best in the world, but he's doing it as a labor of love:
It's not new car money unless it's a really crappy car. It's not the most money I've ever made or anything. I made more from merchandise than from the comedy tour deal. They [Conan and Co.] are giving me a check and then some royalties on the merchandise. I can't say no to these guys — they allowed me to make some money for myself and it was a fair deal. They just licensed the image for the tour — I still own the rights.
Have a tip we should know? tips@mediaite.com