In Shameful Display, Jim Dolan and MSG Forces Rockettes to Perform at Trump Inauguration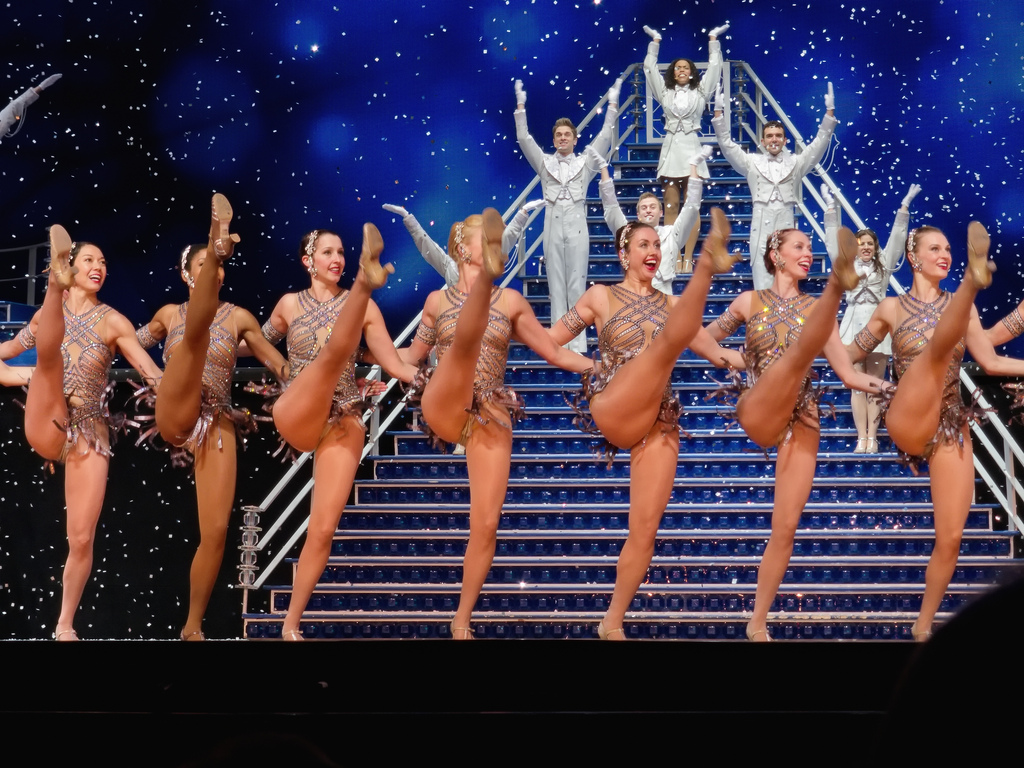 It is no surprise by now that President-elect Donald Trump — regardless of what he claims to the contrary — is having a hard time getting an A-list celebrity to show up and perform at next month's inauguration.
Even Kellyanne Conway yesterday on GMA meekly told David Muir, "Uh, yes," when asked if anyone had been booked for the January 20th event in our nation's capital. But in reality, the only confirmed performances have been a 16-year-old named Jackie Evancho who will sing the National Anthem and the Mormon Tabernacle Choir will also perform.
But for an event that historically has drawn the likes of Frank Sinatra, Aretha Franklin, and Beyonce, Trump will be notably missing real star power.
Enter the world famous Rockettes.
It was announced Thursday that the legendary dance troupe from New York's Radio City Music Hall will perform at the inauguration; Boris Epshteyn told CNN's Brooke Baldwin yesterday, "I can announce right now on your air that the Radio City Rockettes will be taking part in the inauguration celebration." The transition team's argument for not having a more notable celebrity has been that this is the people's inauguration, not the Academy Awards.
AKA: we can't get anyone good.
But reportedly, not everybody is "in line" with the Rockettes performing; one of the members of the ensemble, Phoebe Pearl, took to her private Instagram page to express her disapproval of the situation in a now-deleted message. She wrote, according to Perez Hilton:
"I usually don't use social media to make a political stand but I feel overwhelmed with emotion. Finding out that it has been decided for us that Rockettes will be performing at the Presidential inauguration makes me feel embarrassed and disappointed. The women I work with are intelligent and are full of love and the decision of performing for a man that stands for everything we're against is appalling. I am speaking for just myself but please know that after we found out this news, we have been performing with tears in our eyes and heavy hearts. We will not be forced! #notmypresident"
Hilton also reported that any of the dancers who do not perform in the Trump inauguration "will be sued/and or fired."
And Pearl is exactly right; the shameful decision was made for the woman, not with their input. Their union — the American Guild of Variety Artists (AGVA) — firmly ruled out the possibility of a boycott by any of the performers either, handcuffing at least the dozen full-time dancers to the presidential obligation.
The Radio City @Rockettes are performing at Trump's Inauguration, per statement. (via @AaronKatersky) pic.twitter.com/UiQ7ggGmOM

— Alex Mallin (@alex_mallin) December 22, 2016
Here is, remarkably, what an email from a "high-ranking member" of the AGVA to the Rockettes (first obtained by BroadwayWorld) reads about the decision:
"This has nothing to do with anyone's political leanings (including AGVA's), it has to do with your best performance for your employer, period. I will reiterate that if Hillary Clinton was the President-elect, nothing would be different, and there would probably be those who would not want to be involved because of her. It is a job, and all of you should consider it an honor, no matter who is being sworn in. The election is over and this country will not survive if it remains divided."
All of you should consider it an honor? That is literally the corporate structure equivalent of a fratty drunk asshole harassing a woman in the street and saying Hey baby you should appreciate this catcalling! It's a compliment!
But the blame extends beyond the American Guild of Variety Artists; the owner of the New York Knicks and the executive Chairman of the Madison Square Garden Company James L. Dolan also got in on the fun. Dolan released a statement saying, "We are honored that the Rockettes have again been asked to perform in the upcoming inauguration festivities."
In fact, the AVGA email also included the note further implicating Jim Dolan's decision in the process directly.
"We have received an email from a Rockette expressing concern about getting 'involved in a dangerous political climate' but I must remind you that you are all employees, and as a company, Mr. Dolan obviously wants the Rockettes to be represented at our country's Presidential inauguration, as they were in 2001 & 2005. Any talk of boycotting this event is invalid, I'm afraid."
What is not immediately clear at this time is the relationship between Jim Dolan and the President-elect; all of my calls and emails this morning to MGM Entertainment have either gone unanswered or redirected. Dolan — who the New York Times once famously referred to as a "consummate 1 percenter," has a massive array of entangled interests as one of the most identifiable names in Manhattan business. He also has a vicious anti-Union streak; the Times wrote last year about Dolan:
In the low-rent precincts of his empire, where broad-shouldered men and women climb poles and crawl through basements, he prefers nonunionized sorts.

His officials labored to break the union.

Last year, a judge with the National Labor Relations Board ruled that Cablevision officials had threatened to reduce workers' benefits and deny training if they unionized. The company unlawfully fired 22 technicians in Brooklyn who supported the union.
Like the Rockettes have any chance at having their rights represented fairly?
To be sure, the legendary dancers have appeared at a ton of other high-profile and nationally televised events, including the Super Bowl, previous New Year's Eve celebrations, and annually at the Macy's Thanksgiving Day Parade; as Epshteyn pointed out, they've even danced at other presidential inaugurations.
But the incoming administration has not shown that it is inclined to fight for the rights of the LGBTQ community, the socially disenfranchised, the values of New York City's passionate artistic communities, or the rights of woman to make decisions for themselves. Conservative media buried the cast of Hamilton for politely addressing Vice President-elect Mike Pence after a November performance; Hamilton's Victor Dixon said to the incoming Veep, "We, sir — we — are the diverse America who are alarmed and anxious that your new administration will not protect us, our planet, our children, our parents, or defend us and uphold our inalienable rights." Trump himself called the moment of Great White Way activism "rude" and a form of harassment. This coming from a man who has said there should be some form of punishment for a woman who has an abortion with a VP who once said gay couples signal "societal collapse."
In preparation for this column, a New York female artist friend of mine told me, "As a woman I can't think of anything more abusive than being forced to perform for a sexual predator." If you are looking at this situation and citing the basic responsibilities of 'employees working a job' then maybe — just maybe — you are missing the voice of the marginalized few who may be uncomfortable performing for an admitted sexual predator who brags about grabbing women without their consent.
I can see it now: while the eyes of the world are locked on our inauguration, our President himself will have his eyes locked on the long legs of the dancers in front of him, nudging his pals like a sophomore first discovering his sexuality, perhaps remarking to himself that it would be a pretty picture to see them on their knees in his Oval Office after the ceremony.
One source of mine at Madison Square Garden firmly eschewed any comment on the story; my emails to Jill DeForte, the VP at New York Productions at Radio City Music Hall, and Larry Sedwick, the SVP Productions at The Madison Square Garden Company, and MSG Media Inquiries have all gone unanswered. Among my questions I have of this story as it develops are more about Dolan's personal input to the situation and how the women in the ensemble were told about the corporate decision.
If I hear a response back sometime before 2017, I'll be sure and update it here.
UPDATE 1:53 p.m. EST: MSG has issued the following statement:
The Radio City Rockettes are proud to participate in the 58th Presidential Inaugural. For a Rockette to be considered for an event, they must voluntarily sign up and are never told they have to perform at a particular event, including the inaugural. It is always their choice. In fact, for the coming inauguration, we had more Rockettes request to participate than we have slots available. We eagerly await the inaugural celebrations.
—
J.D. Durkin (@jivedurkey) is an editorial producer and columnist at Mediaite.
[image via Ralph Daily/Flickr]
This is an opinion piece. The views expressed in this article are those of just the author.