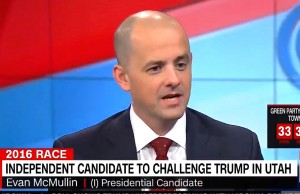 Independent presidential candidate Even McMullin was optimistic about his nascent campaign, telling CNN's Kate Bolduan that Americans were disenchanted with the major tickets and ready for something new.
Critiquing Donald Trump's speech on national security Monday, McMullin, a former CIA operative, said that Trump "sound[ed] more like ISIS than an American president."
"He tries to divide Americans the same way ISIS does or our other adversaries, the same way Vladimir Putin does. He wants to pit religion against religion, race against race. We've been a divided country for so long, Kate. It is time for us to unite," he told Bolduan. Clinton and Trump both "in different ways" divide the country, he added.
McMullin's campaign just announced that he had successfully gotten himself on the ballot in Utah. According to his website, his campaign gathered over 2,000 signatures — twice the required amount — in just three days. He came in under the wire, as the deadline for the Beehive State was Monday.
He is also on the ballot as an independent in Colorado, and the Independence Party of Minnesota has nominated him. Filing deadlines for the majority of states have passed.
Outlining his strategy, McMullin said, "If neither Hillary Clinton nor Donald Trump nor I are able to win 270 in the electoral college […] then it will go the House of Representatives." Bolduan reminded him that that has only happened once in American history — in the 1824 election.
"This is an election season unlike any other," he added.
—
Sam Reisman (@thericeman) is a staff editor at Mediaite.
Have a tip we should know? tips@mediaite.com