Sen. Inhofe Blames 'Ukrainian Delegation' for Providing Him with Bogus War Atrocity Photos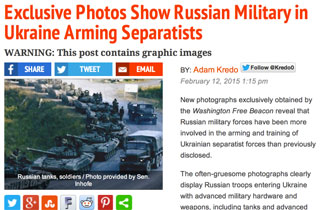 Sen. Jim Inhofe (R-OK) today blamed a Ukrainian delegation for the photos supposedly depicting Russian atrocities in Ukraine, which he provided to a DC news site and subsequently discovered were outdated.
According to BuzzFeed, Inhofe's office told them that the photos, eventually published by the Washington Free Beacon, had come from a "delegation" including two first-year members of parliament, some academics, and some military officers. "The list does not include high-level government officials," BuzzFeed noted.
"We felt confident to release these photos because the images match the reporting of what is going on in the region," Inhofe said in a statement to BuzzFeed. "I was furious to learn one of the photos provided now appears to be falsified from an AP photo taken in 2008. This doesn't change the fact that there is plenty of evidence Russia has made advances into the country with T-72 tanks and that pro-Russian separatists have been killing Ukrainians in cold blood."
Many of the photos published by the Free Beacon were quickly recognized as photos from the Russian incursion into Georgia, which happened in 2008. Other photos, including graphic images of charred and headless bodies, could not be confirmed as a result of Russian involvement in eastern Ukraine. So far, Russia has denied providing support to the separatists in the region.
Dr. Phillip Karber, a member of the delegation and a professor at Georgetown University, explained to BuzzFeed that while some of the photos provided to the Senate Armed Services committee were originals, the mixup came as a result of "a misunderstanding compounded by miscommunication":
Karber said that some of the Senate staffers asked to keep some of the photos. He said that on Wednesday while packing to go to Ukraine, he received an email from Inhofe's office asking for the time when the photos were taken. He sent the following email to Bereza's staff, he said:
"The Senate Armed Services Committee and Senator Inhof [sic] want to use some of the photos that Yuri showed to Congress — the ones showing badly burned troops, etc. BUT they need to know when they were taken; and they need that INFO today! I told them that I believe that the photos were taken during the summer Russian "backstab" invasion between 24 Aug and 5 Sept when Bereza and his men were surrounded at Iliovsk battle. If that's the case just give me a confirmation. If NOT, try to give me a range of dates." A staffer for Bereza confirmed those dates with Karber, who relayed the message to Inhofe's staff.

"In terms of yesterday, from my perspective there was no intention to mislead anyone, and particularly a US Senator or his staff," Karber said. "In the haste of running for the airport and trying to respond to a last minute request with short time fuse, I made the mistake of believing we were talking about the same photos — i.e. burned casualties (which were 6 of the nine used) and it never occurred to me that the 3 photos of Russian armor were part of that package or being considered. Had I seen them, I know I would have raised immediate objection to the use of at least one and insisted that none of the armor photos be used until Bereza himself confirmed each and every one by looking at the photos personally. That is hindsight, but it does not excuse what happened or rectify the embarrassment it has caused."
Last night, the Free Beacon updated its story with the headline "Updated: Provenance of Photos Showing Atrocities Questioned," and added the reporting from BuzzFeed in their final update. "The Washington Free Beacon regrets the error," they added.
[BuzzFeed]
[Image via screenshot]
—
>> Follow Tina Nguyen (@Tina_Nguyen) on Twitter
Have a tip we should know? [email protected]