Internal Cruz Memo Lauds Defund Strategy: 'Long-Term Benefits for Country, Conservatives'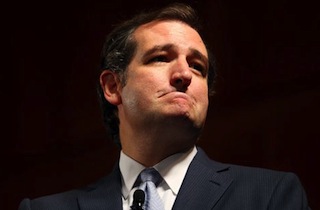 In a memo obtained by the Daily Caller, Senator Ted Cruz's (R-TX) office argued the defund strategy that resulted in a two-week-plus government shutdown and horrific polling numbers for the GOP "produced tangible results," and rebuked the "establishment politicians and members of the pundit class" who criticized Cruz's hard-line tactics.
"The defund plan produced tangible results that create both immediate and long-term benefits for the country and the conservative cause," the memo argued, listing the results as:
First, it intensified the nation's focus on Obamacare. Second, it energized Americans by showing there are people in Washington willing to take real action to stop Obamacare. Third, it exposed, for all to see, the Democrats' refusal to compromise out of blind devotion to their extreme liberal agenda. Lastly, it proved the need for Republicans to unite and stand firm together in their resolve to defeat Obamacare.
The memo also lambasted Cruz's critics for blaming him rather than President Barack Obama and the Democrats for the government shutdown.
RELATED: Jeb Bush Advises Sen. Ted Cruz to 'Have a Bit of Self-Restraint'
"President Obama is responsible for shutting down the government because he refused to negotiate with the House of Representatives to keep the government open," it said. "President Obama issued fifteen veto threats to bills the House of Representatives passed, with significant bipartisan support, to re-open the government and fund vital government services, such as the Department of Veterans Affairs and the national parks."
[Image via Lohud]
——
>> Follow Evan McMurry (@evanmcmurry) on Twitter
Have a tip we should know? tips@mediaite.com