Ezra Klein 'Shocked' at Joan Walsh Criticism: 'My Job is to Cover Obamacare Accurately'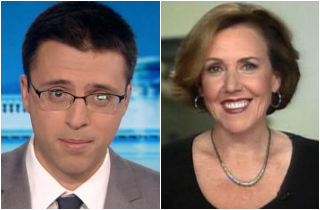 Salon editor Joan Walsh called out Washington Post blogger Ezra Klein and New Yorker writer Ryan Lizza on Monday for criticizing the rollout of the Affordable Care Act exchange websites, arguing that their liberal critiques of the website's issues would only make right-wing attackers salivate.
Klein was taken aback by Walsh's criticism, tweeting:

Klein, a close follower of the law since its inception, has been harshly criticizing the malfunctioning websites for the past week, warning that they had "deeper, more systemic problems" than the early glitches, and excoriating the "management failure" that allowed the sites to move forward before they were ready.
Walsh wrote on Monday that despite the very troubling problems with the Obamacare website, liberal writers were acting in part out of an overcompensatory need to hold their own side accountable, and to fill the media void left by the end of the government shutdown:
As predictably as night follows day, on Monday the media establishment pivoted away from obsessing about GOP extremism and the party's alleged "civil war" to the "train wreck" that is, allegedly, the Affordable Care Act.

And liberals helped lead the pivot.

Don't get me wrong: The problems with Healthcare.gov are real, and disturbing, and must be fixed asap. (Think Progress has a dispassionate assessment here.) But excuse me if I believe the president knows that without my telling him. It's like watching the 21st century version of the rise of the Democratic Leadership Council, and I feel the way I did back then: On the one hand, yes, it's important for Democrats to acknowledge when government screws up, and to fix it.

On the other hand, when liberals rush conscientiously to do that, they only encourage the completely unbalanced and unhinged coverage of whatever the problem may be.

[…] The Washington Post's great Ezra Klein then picked up the cudgel, telling the crew at MSNBC's "Morning Joe," where every Obama misstep foretells the end of his presidency, that the Health and Human Services Department is covering up a massive "management failure," because they had enough pre-launch information to know there were going to be massive problems and neither adjusted their rollout plan or prepared the public.
NB: Salon's political reporter Brian Beutler disagreed with Walsh's analysis.
[Image via screengrab]
——
>> Follow Evan McMurry (@evanmcmurry) on Twitter
Have a tip we should know? tips@mediaite.com