Internal Review Finds BuzzFeed Deleted Articles Under Pressure from Advertising Side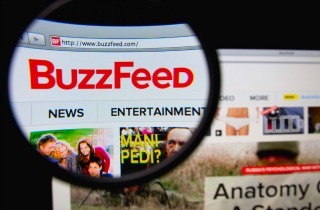 An internal review of BuzzFeed's article deletions conducted by the website's news director found three articles deleted over advertiser complaints, according to Gawker's J.K. Trotter.
The internal review began after BuzzFeed was criticized for deleting two articles about Monopoly and Dove, brands with which the company was working, creating at least the appearance [coughs violently] of a conflict of interest. (The author of one of the posts quit in protest.)
BuzzFeed editor in chief Ben Smith said the posts had been deleted over editorial concerns. BuzzFeed had recently been scrutinized for sending thousands of its earlier posts down the memory hole, and in response released new and purportedly more stringent editorial guidelines.
One of the deleted posts, about Axe Body Spray, had been previously reported in Gawker. Two more were found, one of an article criticizing Pepsi's Twitter account even as BuzzFeed was tweeting from that account as part of a social media marketing campaign. A third post criticized Minecraft by a writer who had previously worked on an advertising campaign for Minecraft's parent company before moving over to editorial; this led to a rule that writers who graduated from business to editorial underwent a "cooling off" period in which they were not allowed to write about the brands with which they had worked.
BuzzFeed provided Gawker with a copy of the memo Smith sent to the staff, which Gawker published in full. In it Smith calls Trotter BF's "hardworking volunteer ombudsman," a bit of passive-aggression that definitely got noticed:
Calling a reporter from another news org a 'hardworking volunteer ombudsman' is about as arrogant as it gets http://t.co/EL5O7XtYgo

— Ben Whitelaw (@benwhitelaw) April 18, 2015
Ben Smith is a nice guy. Calling the reporter holding u to account "our volunteer ombudsman" is dickish. Reeks of "oxpecker." Take yr hits.

— John Cook (@johnjcook) April 19, 2015
Seymour Hersh is the pentagon's hardworking volunteer ombudsman

— Sam Biddle (@samfbiddle) April 19, 2015
[h/t Gawker]
[Image via Shutterstock]
——
>> Follow Evan McMurry (@evanmcmurry) on Twitter
Have a tip we should know? tips@mediaite.com