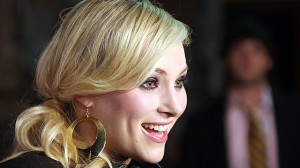 Meghan McCain, daughter of Senator John McCain, recently interviewed Donald "The Donald" Trump for the Daily Beast. And, predictably, the interview is getting quite a bit of negative feedback from around what some people who aren't me might refer to as the "blogosphere." Yes, that's right, it's H8er Week here at Mediaite. Kick back, grab a Pabst, and go with it.
First off: Yes, fine. The interview is not exactly what anyone would call "hard hitting." In fact, it's really something of a lovefest, with McCain and Trump continuously complimenting one another throughout the course of the article.
Wonkette (yes, that Wonkette) blogger Jack Stuef (yes, that Jack Stuef) takes the "fame-starved" angle in a post titled "Meghan McCain Finally Gets a Job, With Donald Trump:"
"So are we doing a radio show?" Trump asks. "No, this is an interview for The Daily Beast," Meghan responds. "Oh, OK, good," Trump says. (He's never been to the Internet and has no idea what she's talking about.) "I like you. I see you a lot on television." These two are perfect for each other! There are no two individuals who have less to do with Republican policy than them. There are bloated half-dead starving kids in third-world countries who have more to do with policy, and Republicans don't even like bloated half-dead starving kids in third-world countries. Anyway, Meghan McCain grovels for a job and Donald Trump gives her the first job offer of her life, because these people truly love each other, for they have been on television.
For the record, yes, I did laugh at "he's never been on the internet." As did Gawker in its own take on the interview, "Journalism's Finest Hour: Meghan McCain Interviews Donald Trump."
Slate's David Weigel comments on the interview in a post of his own – "Meghan McCain Commits An Act of Journalism." (Which is quickly followed up with "Sorry, that headline's a lie.") His focus, as you probably could have guessed, paints the interview as amateurish and, I'm assuming, biased. He highlights several of the direct questions posed during the interview, for example: "If you run for president, will you hire me for your campaign?" and "Why do you think this birther thing still has such legs?" and, well, "Have you ever stayed at a Holiday Inn?"
And here's the real meat of Weigel's post, which echos the basic premise of Stuef's:
At least some of Trump's success so far can be traced to the way the media engages him — as a celebrity, not a politician who needs to be held accountable for his actions.
And here's where I get to find out who actually read this post and who merely glanced at the title: I don't completely disagree with this assessment. I suspect people (not "media people," mind you) who haven't found themselves already completely fed up with Trump coverage to the point where they tune out whenever his face pops up on their television sets or computer screens, keep watching him because they're genuinely entertained by his performance and his bravado, even if they're masochistically entertained by how angry he makes them. And it's the job of some forms of media to give the people what they want even if, by God, they don't want to want it.
But it is also coverage like these articles that feeds into the frustration on which Donald Trump is building his platform. I mean, come on. I live in New York, I work in media: I know exactly for whom these posts were written, and of course they're going to provide the laughs they were designed to provide. And that's fine. But repeatedly referring to Trump as this sort of lunatic imbecile, grasping hold to the top of the Empire State Building (which features a giant gold "TRUMP" logo across its top floors, as least in my imagination) as he brandishes a wadded up piece of paper from Hawai'i, or painting McCain as clueless or ruthlessly opportunistic (and, believe me, it's kind of hard to be both of these at once) only gives their supporters what they want. It basically tells them, "You are completely justified in your frustration over the lamestream media. It is simultaneously ignoring and mocking you and the beliefs you hold most dear." Because, you know. That's really not an unfair assessment of what's going on, at least in what I'm refusing to refer to as the blogosphere.
And, after the number of pageviews are recorded and discussed and bloggers slink back to the giant dank basement (in Brooklyn) where we all collectively reside, no one really ends up winning. Except, possibly, the McCains and the Trumps of the world, smiling back at us from our TV sets, silently mouthing "it feels so good to be gangsta" as we feud, drunk on PBR, amongst ourselves.
Have a tip we should know? tips@mediaite.com