Internet Raises $12,000 For 97-Year-Old WWII Vet to Attend Cubs World Series Game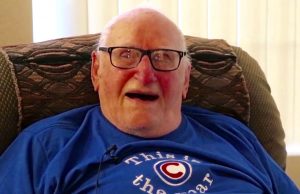 Jim Schlegel was 26 years old in 1945 when his beloved Chicago Cubs were last in the World Series. Schlagel had just completed four years of service in the Army during World War II, and wanted to see the Cubs play the decisive sixth and seventh games of the World Series against the Detroit Tigers in person at Wrigley Field.
Schlegel scored $1.20 bleacher seats for the games, and watched from the stands as the Cubs dropped Game 7 and lost the Series to the Tigers four games to three.
Seventy one years later, Schlegel's granddaughter, Helen Schlegel, wanted her grandfather to return to Wrigley with the Cubs back in the Series for the first time since '45.
So she set up a GoFundMe page to try to raise money for tickets.
My Grandpa is 97 years old. He served in Pearl Harbor and is the BIGGEST Cubs fan I know. He had the opportunity to go see the Cubs in 1945 World Series Game 7 and still has the original ticket stubs. He has been waiting since that heartbreaking day, to see the Cubs in World Series. Please help my Grandpa witness the Cubs in the World Series again.
The fundraising drive made the rounds on social media, and the fund grew quickly. Moreover, it caught the attention of Marcus Lemonis, the CEO of Camping World. Lemonis donated two tickets for Schlegel and his son to attend Game 3 of the Fall Classic on Friday night. Meanwhile, the fundraising drive continues, with Schlegel now intending to donate 100% of the contributions to the Purple Heart Foundation. The total currently stands at $12,785.
So the Internet came through. A business executive came through. And on Friday night, a 71-year journey of baseball heartbreak will come full circle for Jim Schlegel.
"I'm excited," Schlegel told reporter Mike Danahey of the Elgin Courier-News. "But right now, I think I need a nap."
[image via screengrab]
–
Follow Joe DePaolo (@joe_depaolo) on Twitter
Have a tip we should know? tips@mediaite.com
Joe DePaolo - Senior Editor