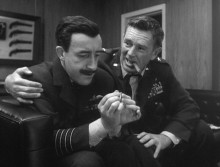 Apparently, Iranians don't do satire very well, no doubt one of the nasty side effects of not having a functional free press. Earlier this year Newsweek journalist Maziar Bahari suffered the brunt of Iran's confusion over a Daily Show interview he had participated in. Bahari was jailed during June's protests and then interrogated over video footage of the interview showing him being interviewed by "an American journalist pretending to be a spy." In reality this "spy" was Jason Jones.
This time around however the joke appears to be on Iran. According to a recap at the Atlantic, Charles Davis, a freelance journalist and blogger at the website Dissident Voice, penned a satirical, fake news piece yesterday titled "EXCLUSIVE: Obama Orders Air Strikes on Guantanamo Bay" (if you need a laugh, it's a fun read). The "report" was picked up by Iran's state TV Press TV, which has an office in Washington, who called Davis to verify the story. This from Davis:
Being a bit of an asshole, I of course responded by sending my Google Voice number. About five minutes later I received a call from 'Sarah' in Tehran, who conducted a fact check of my piece consisting of the question: 'Is it credible?' Again, being a bit of an asshole, I assured her my sources were second-to-none and that the credibility of the piece was not in doubt, prompting her to invite me to appear on *LIVE* television in an hour. I naturally accepted.
He also apparently provided a photo of "19th century mustachioed Mexican revolutionary Emiliano Zapata" which may have alerted Press TV that all was not as it seemed — the interview, alas, did not end up running. However, perhaps the Onion should consider sending a regular shipment to the Press TV offices, just to give them some practice.
Have a tip we should know? [email protected]