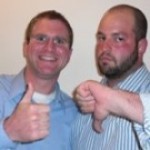 Who: Natalie Portman interviewed by Patrick Healy
What: The New York Times Arts & Leisure Weekend
When: January 9, 2009
Where: The Times Center
Thumbs: Down
The crowd exited the New York Times conversation with Natalie Portman buzzing, but it wasn't because of anything she or moderator Patrick Healy said. The cause was an unexplained, bizarre disappearance. Forty five minutes into the panel, at the beginning of the viewing of a clip from her new film Brothers, Portman quickly ran off the stage. Healy, without offering justification, then announced a delay in the panel. The audience sat awkwardly for a few minutes before Healy said that they'd show another clip. As soon as the lights dimmed, security came out and removed a gentleman from the first row of the audience. Only then did Portman return to the interview. The potential creepiness of that interaction was amped up when discussion with his seat neighbors revealed that he had not taken picture or video, or any other New York Times no-no. It seemed that Natalie Portman had ejected him for his presence. Rarely does panel going bring us in contact with the dark side of celebrity, but for one night we were reminded that not everyone is interested in witty banter and interesting give and take.
[Update: The New York Post's Page Six reported today that it was indeed a stalker.]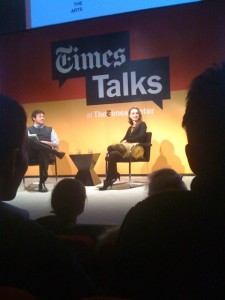 The ejection certainly overshadowed the interview, though the question-answer was so banal and perfunctory, it provided an easy target to overtake. Which is a shame because the rare moments when the panel got going, it touched on interesting topics. Portman was at her most passionate when discussing her appreciation for the directors she has worked with. She lavished praise on Mike Nichols (Closer), Luc Besson (The Professional), and Anthony Minghella (Cold Mountain) (notable omission: George Lucas, who directed her in the Star Wars prequels). It was also interesting to hear about the way she balanced a fairly normal life with her movie career. Her story stands in great contrast to many other child actors.
Those illuminating, moments were rare, though. The main problem with the talk was a lack of focus. It wasn't clear before or after the discussion, what the panel was ultimately about. Without direction, the interview descended into a glorified rendition of her wikipedia page. Healy simply went in the order of her career, and each period repeated the same pattern of questions: What was (fill in specific project) like? What was good and bad about (repeat name of specific project)? What did you learn from (project name, again) to help you in the rest of your career? Great panels feel like you're watching two old friends talking about life. Healy's tentative, nervous presence and the general nature of the questions made this panel feel like watching a first date – the kind of first date that doesn't lead to a second one.
What They Said
"My idea of acting at the time was – jazz hands"
– Natalie Portman has learned that there are many types of hands in acting

"It was amazing and amazingly normal. I'm blessed to have missed the whole facebook, twitter thing by a few years."
– Natalie Portman says you can't find paparazzi pictures of her from Harvard. That's a challenge, internet
"The Long Island social scene is hanging out in the parking lot of a mall so [my acting career] was my saving grace."
– Natalie Portman doesn't know the joy of drinking slurpees outside a CVS
"I like to be liked. I try to make people like me."
– Natalie Portman is succeeding, we think
What We Thought
Portman was able to quote New York Times reviewer Janet Maslin verbatim from her review of The Professional:"she poses better than she acts." She said that actors always remember the insults, before getting off an insult of her own. She didn't feel bad because Maslin "was the one who was dissing a 12 year old." Decade-later point: Portman.
Portman wants to direct but she admitted that if she was a guy, she wouldn't care to. She sees great female scripts and men don't want to direct them. The fact that there aren't women directing makes her mad and she wants to fill the void.
Because the questions never scratched beyond the surface, Portman was able to rely on actor-speak to describe projects. Almost every role was described as "challenging" and experiences were "magical." At times, it walked the border between an actual interview and Portman doing her best version of Kate Hudson's Drew Barrymore impression.
PANEL RULES
Some audience behavior seems to repeat itself panel after panel. We'll be updating a running list of "PANEL RULES!" that will help ensure that you are not the dweeb of the Panel Nerds.
Panel Nerds Don't Like… Celebrity Endorsers
One mother brought her daughter (also named Natalie) to the panel and asked Natalie Portman to give advice to her daughter on how to "stay grounded in this age when teenagers are being overstimulated." Poor audience-Natalie must have been cringing. We know we were. Also, Portman spoke at length about what helped her have a "normal" life. Even if you come with your question all planned in advance, if it's been answered, don't ask it.
Update: A commenter at NataliePortman.com also has the story of the guy being "forcefully ejected" from the front row. Also, a news update for nerds: Portman talked about her role in comic book adaptation Thor, due out in 2011, and revealed that she has a three-picture commitment. Comic book trilogy! Nerds, she's yours again.
Here's a clip they showed at the panel – Portman as that 12-year-old in Beautiful Girls:



Photo of Portman and Healy via Adam Ludwin's Twitpic
Have a tip we should know? tips@mediaite.com