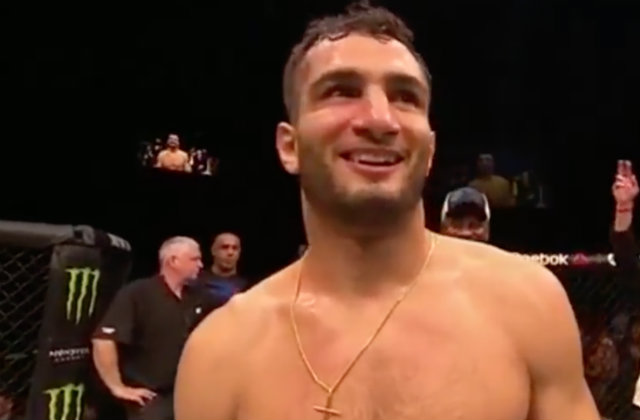 The impact of President Donald Trump's executive order signed Friday, the one that his surrogates concede was designed as a ban on Muslims entering the United States, is starting to impact the sports world. Gegard Mousasi, a veteran top contender who fights in the Ultimate Fighting Championship's middleweight (185 pound) division, is speaking out about how the order could potentially affect his April 8th fight against former champion Chris Weidman in Buffalo, New York. Mousasi, a Christian who was born in Iran, fled to the Netherlands as a small child during the Iran-Iraq war.
"I have the Dutch nationality, but I also have a visa," he told Telesport (translated from Dutch using Google Translate). "But even with a visa you get in trouble, I heard. I'll hear more about it this week though. The UFC lawyers are busy, and the people who arrange the visas are too. So it is not in my hands. My job is to train and get ready for the game. It's just annoying."
"This [ban] is not the right direction," Mousasi added. "There seems to me a bit too much turmoil in the world, and this is certainly not a positive way. For years there were working relationships between countries, and now with Trump, there go all the years that worked for peace. I think he's a bit of an arrogant guy, he does things his way, but I think he has little understanding of politics. I'll wait for this week, and stay quiet in training, which is also good for my next fight."
Mousasi isn't the only fighter speaking out against the ban: Sara McMann, an Olympic silver medalist who once got a shot at Ronda Rousey's title, posted a selfie on Instagram where she is wearing a hijab as a form of protest:
As an organization, the UFC has had a relatively cozy relationship with Trump. Last year, company president Dana White spoke at the Republican National Convention after Trump invited him. In a brief speech, he supported Trump on the basis that he helped out the UFC when others wouldn't by letting them book one of his casino arena's for a fight card.
[Photo: UFC YouTube screen grab]
Have a tip we should know? tips@mediaite.com