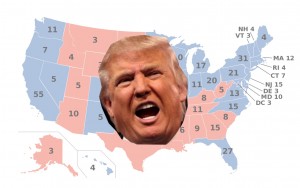 It's no surprise that the typical rules of American politics are upside down.
Lifelong Republicans are throwing in their lot with a Clinton, and states that have been historically red or purple are inclined to make a sharp left turn come November 8th. Nationally, Hillary Clinton holds a +5.5 point advantage over Donald Trump, and key battleground states are increasingly looking like Clinton will come out victorious.
For pollsters and punditry map-drawers alike, it begs the question if the 2016 election is a political peculiarity or the start of a longterm shift in party preference.
To be sure, the former Secretary of State is currently in contention in states that would likely be out of touch for a Democrat under normal circumstances. Georgia, for instance — a state that has only gone Democrat in recent history under Bill Clinton in 1992 and for hometown boy Jimmy Carter — currently leans left by +0.3 points. Arizona went for Clinton during his reelection bid in 1996, but otherwise is a hardened red state; Trump holds a +0.3 margin there.
Hillary Clinton holds large leading margins in every single one of the eleven states that many people think will determine the Presidency: Nevada, Colorado, Wisconsin, Michigan, Ohio, Iowa, Pennsylvania, New Hampshire, Virginia, North Carolina, and Florida.
As The Hill points out, the fear for many Republicans is that much of the damage may be done:
They fear their party could see its fortunes mauled as a consequence of two factors: large-scale demographic changes that make the landscape less hospitable for the GOP, and Trump's startlingly poor performance so far with normally reliable pillars of Republican support, such as college-educated whites.
So is Trump a quirk or a sign of things to come?
You can point to Trump's current standing among certain groups and compare to where Mitt Romney stood in 2012; "Trump is not doing that much worse with minorities than Romney did in 2012," says The Hill's Niall Stanage, and he's comparable in states like Iowa and Ohio to where Romney was four years ago.
College-educated whites and women seem to be the demographics that will be carefully watched following this election to determine any indication of longterm changes. "There is no question that the demographics are changing, and they've been changing in a number of states — Virginia, Colorado, and there are other states you can point to as well," said Democratic pollster Mark Mellman.
The nation's electorate may decide that the Trump phenomenon is exactly that: a blip on the radar of American history. But after a campaign of incendiary rhetoric and a Republican party that has largely stood aside while the Trump Tornado took over, the GOP may be feeling the effects for many elections to come.
This is an opinion piece. The views expressed in this article are those of just the author.