Local Army Training Brief Listed Hillary Clinton as an Example of Insider Security Threat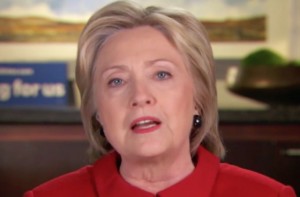 A leaked slide from a local U.S. Army training presentation listed Hillary Clinton among a list of major figures that should be recognized as potential insider threats.
A photo of the slide first appeared on the "U.S. Army W.T.F! moments" Facebook group, where Clinton was featured in a motley crew with five other controversial individuals. The Daily Caller seemed to be the first to pick up on the photo, and an army spokesman confirmed that it was a actually used in OPSEC training briefs.
"We have confirmed that the slide was developed 18 months ago and used locally as a part of a training presentation on best practices for handling classified material and maintaining operational security," said Army Maj. Thomas Campbell. "This particular presentation had not been reviewed or approved by the unit's leadership, and does not reflect the position of the Army. The training presentation has since been removed."
Clinton is featured next to General David Petraeus, who resigned in disgrace from the CIA after giving secret information to his biographer, Paula Broadwell, during their affair. Also on the slide are Edward Snowden and Chelsea Manning, presumably for their exposures of classified information, as well as Nidal Hasan and Aaron Alexis, the respective perpetrators of the Fort Hood and Navy Yard Shootings.
Clinton continues to come under fire for her use of a private email scandal, which was recently given a new spark after the FBI discovered approximately 15,000 undisclosed emails that weren't turned over.
[Image via screengrab]
— —
>> Follow Ken Meyer (@KenMeyer91) on Twitter
Have a tip we should know? tips@mediaite.com