Report: Bachmann Taking Support From Romney Because Jewish Donors Think She's Jewish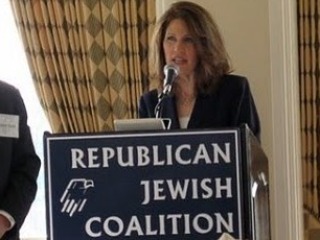 A fund raiser for former Massachusetts governor Mitt Romney's presidential campaign is running into some trouble getting money from Jewish voters, and not because they don't agree with the Mormon candidate's policies or with his stance regarding Israel — they'd just rather their money go to a Jewish candidate. You know, like Michele Bachmann.
Evidently, Bachmann has been popular among Jewish voters, despite being very outspoken about her Evangelical Christian beliefs. Some within Romney's camp wonder whether she has confused members of the Jewish community by referencing her work looking for landmines on a kibbutz in Israel back in 1974. She has also previously said that while she is Christian, she considers her heritage Jewish, "because it is the foundation, the roots of my faith as a Christian." Here's what she told a Jewish blogger following an AIPAC Policy Conference in 2010:
I have been a long time supporter of Israel. The first time I went to Israel was the day I graduated from high school. I spent a summer working on Kibbutz Be'eri near Beer Sheva in 1974. I've been 4 times in Israel – 3 times as a Member of Congress. I loved Israel – from the moment I first landed.

As a young girl from Anoka, I was shocked at the level of security in Israel. We worked on the kibbutz from 4 am to noon. We were always accompanied by soldiers with machine guns. While we were working, the soldiers were walking around looking for land mines. I really learned a lot in Israel.

I was delighted to go back as a Member of Congress, and see all the changes. To see how it has developed – it is nothing short of a miracle! To see a rose bloom in the desert. In 60 years, Israel has achieved first world, or nearly first world, status. I am honored to be in a position where I can help Israel. I have a tremendous love for Israel, and great admiration for the Israeli people. I am a Christian, but I consider my heritage Jewish, because it is the foundation, the roots of my faith as a Christian.
Bachmann's spokesperson Doug Sachtleben, meanwhile, maintains that Jewish voters identify with Bachmann not because they believe she is Jewish, but because she has been vocal about her support for Israel. But she does have chutzpah. Or something like it.
h/t NY Post
Have a tip we should know? tips@mediaite.com