Is Sen. Ted Cruz 'The New McCarthy'? Report Says He Accused Harvard Law Faculty Of Harboring 'Communists'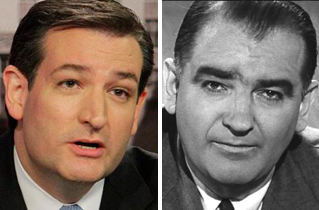 Is Sen. Ted Cruz the new Joseph McCarthy? Some are asking, especially following a new report in the New Yorker on Friday that looked back at remarks the Republican Texas senator reportedly made in a speech a few years ago — wherein he pointed to "communists" among the Harvard Law School faculty. President Obama, he added, would have fit right in.
Cruz attended the school from 1992 to 1995, during which time, Jane Mayer reported, he "accused the Harvard Law School of harboring a dozen Communists on its faculty." The accusation came in a speech he gave two and a half years at a "Defending the American Dream" conference sponsored by Americans for Prosperity (which is associated with Charles and David Koch).
Cruz "soon launched an impassioned attack on President Obama, whom he described as 'the most radical' President 'ever to occupy the Oval Office.'" Then came the specific remarks about the faculty:
He then went on to assert that Obama, who attended Harvard Law School four years ahead of him, "would have made a perfect president of Harvard Law School." The reason, said Cruz, was that, "There were fewer declared Republicans in the faculty when we were there than Communists! There was one Republican. But there were twelve who would say they were Marxists who believed in the Communists overthrowing the United States government."
Mayer said she attended the conference and kept her notes. A spokesman for Harvard Law told Mayer they were "puzzled" by Cruz's assertions because they were "unaware of any basis for them."
A professor who taught Cruz (and also served under Ronald Reagan), Charles Fried, also believed Cruz's comments to be untrue. While "there were a certain number (twelve seems to me too high) who were quite radical," Fried said, "I doubt if any had allegiance or sympathy with anything called 'the Communists,' who at that time (unlike the thirties and forties) were in quite bad odor among radical intellectuals."
Mayer noted that Cruz could have been pointing to a specific group of left-leaning faculty members, but Fried said deeming them communists lacked "nuance."
It may be that Cruz was referring to a group of left-leaning law professors who supported what they called Critical Legal Studies, a method of critiquing the political impact of the American legal system. Professor Duncan Kennedy, for instance, a leader of the faction, who declined to comment on Cruz's accusation, counts himself as influenced by the writings of Karl Marx.
The senator's spokeswoman did not respond to Mayer's request to comment.
Read the full report here.
Have a tip we should know? tips@mediaite.com